Why Apple is working on touchscreen Macs after years of denial
After the failed Touch Bar and pressure from touchscreen Windows PCs, Apple might admit defeat and adopt touchscreens.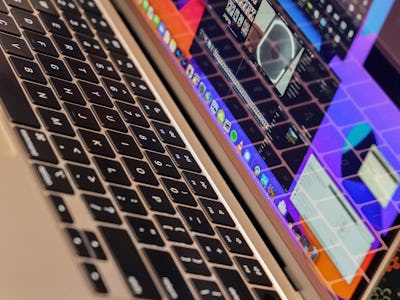 Raymond Wong / Inverse
Touchscreen MacBooks may be on the horizon. Apple is reportedly working on adding touchscreens to its Macs, according to Bloomberg's Mark Gurman. If this turns out to be true, this represents a serious change in direction for Apple's design philosophy.
For the longest time, Apple had MacBooks squarely in the laptops category while iPads were designed with the touchscreen experience in mind. Now, Apple is "seriously considering producing touch-screen Macs for the first time," according to the Bloomberg report. Gurman also tweeted that Apple has teams working on a new MacBook Pro with a touchscreen.
While the late Steve Jobs was famously against touchscreens for laptops, calling them "ergonomically terrible," it looks like Apple may be reconsidering that idea. Combining the clear failure of its Touch Bar design with the rising competition from other touchscreen laptops like the Surface Pro 9 and Surface Laptop 5, Apple may be reacting to the market with this design change.
Time for a change
The implications of Apple adopting a touchscreen for its Macs are huge. Besides going against Apple's design philosophy, touchscreen adoption could signal it doesn't want to fall behind its competitors. In recent years, there have been many solid alternatives to MacBook's various models including Microsoft's Surface series, Lenovo's Yoga laptops, and Dell's XPS lineup, all of which have touchscreen options.
The implications of Apple adopting a touchscreen for its Macs are huge.
If Apple does end up adding a touchscreen to MacBooks, it would be the closest thing we get to Apple actually admitting that its Touch Bar design was a failure. Apple has already all but removed the Touch Bar, retaining it only with its latest M2-powered 13-inch MacBook Pro. If all MacBooks become touchscreen, there really wouldn't ever be a need to revive Apple's controversial Touch Bar strip.
Along with work touchscreen MacBooks, Apple would transition its displays to OLED technology, leaving behind its current LCD displays, according to the Bloomberg report.
Touchscreen MacBook Pro in 2025?
The Bloomberg report also notes that the first touchscreen Mac could launch in 2025 as part of a revamp to the MacBook Pro. There's no telling if Apple is fully intent on making a touchscreen MacBook, but similar to how the company at first frowned on big phones and a stylus for the iPad, then went and made iPhones larger and added Apple Pencil support to iPads, Apple has a history of doing 180s on past stances.
There's always the potential of Apple scrapping the idea, which could be a real possibility if a touchscreen MacBook would take away from the iPads' sales. In any case, Apple has given itself roughly two years to figure out touchscreen Macs. As anyone who's ever used a Windows laptop or desktop with a touchscreen can tell you, Jobs' "gorilla arm" concern with using touchscreens on computers is unfounded.