Hyundai's crab walking tech will make parallel parking a thing of the past
It may be a couple of years still before we see this on production model Hyundais, though.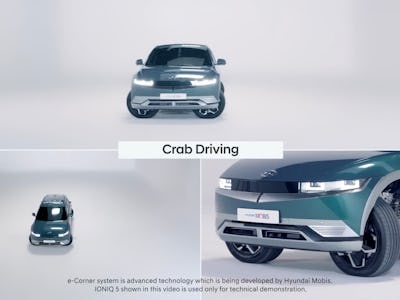 Hyundai Mobis / YouTube
Hyundai is showing off some next-level maneuverability. Hyundai Mobis, the car parts division of Hyundai, demoed a prototype Ioniq 5 with its "crab walking" e-Corner System at CES 2023.
It took Hyundai Mobis a few years since the car tech's debut at CES 2018. The company gave a demo of a prototype designed specifically for the e-Corner System at CES 2021. Later that year, Hyundai Mobis announced that it fully developed the e-Corner System. Most recently, we saw a full-on demo of the tech on an Ioniq 5 at the latest CES, showing how far Hyundai Mobis has come.
More than crab walking — As the demo shows, the test model Ioniq 5 can drive completely sideways at 90 degrees, otherwise known as crab walking. With the e-Corner System, the Ioniq 5 can also drive diagonally, rotate its back wheels for pivot turning, and can completely turn 360 degrees in place.
That's a lot more mobility than we've seen with other carmakers experimenting with crab walking technology. The e-Corner System essentially adds another dimension to how cars can drive. All these functions could help out in cities with narrow streets or tight turns, but it would definitely be a lifesaver when it comes to parking in tight city spaces.
While Hyundai's e-Corner System is by far the most maneuverable, it's not the only one out there. Both the Hummer EV and GMC's Sierra EV can crab walk, though not up to 90 degrees. There's also an offering from Chinese company Dongfeng that feels like a knockoff Hummer that also crab walks diagonally. While not as flexible as Hyundai, Mercedes-Benz offers rear-axle steering on a few of its EVs, but it only goes up to 10 degrees.
Coming in 2025 — Hyundai Mobis may have gone with the Ioniq 5 for a demo, but there's no guarantee that the tech is coming to this specific model. The only clue we have that the e-Corner System will make it to production model cars is that Hyundai Mobis said back in 2021 that it would roll out the technology in 2025.
We're still a couple of years out, so other carmakers could definitely catch up to Hyundai's tech. Until then, it's probably a good idea to keep your parallel parking skills sharp.
INVERSE brings you everything from the fun and futuristic world of consumer technology at CES 2023. For all the latest technology coverage from the show, go to the INVERSE CES 2023 hub.