HP is serving up Dragonfly laptops and a giant monitor in 2023
HP's CES 2023 is filled with new Dragonfly Pro laptops, several dozen monitors, and a focus on 24/7 support.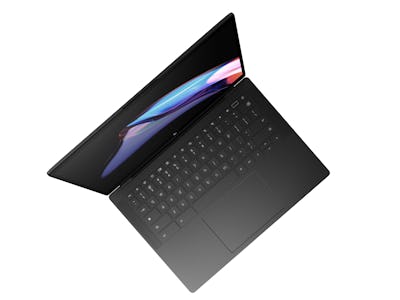 HP
HP is heading to CES 2023 with a wide range of laptops and accessories focused on hybrid work, including an expansion to its Dragonfly line of laptops and a giant ultrawide monitor.
Dragonfly laptops have traditionally been the stylish and flexible option in HP's enterprise offering — the "cool" choice if your work assigns you a secure laptop. The new Dragonfly Pros are embracing the (concerningly) blurry boundary between work and play by targeting freelancers and come in Windows and ChromeOS varieties.
For screens to connect to those laptops, HP is focusing on the E-series G5 monitors and the M24h and M27h FHD monitors. The names can be gobbledygook, and multiple sizes are getting attention this year, but the point is if you're in the market for a curved ultrawide with the ability to act as two separate displays, HP will soon have a compelling option.
Hello Dragonfly Pro
The Dragonfly Pro and Dragonfly Pro Chromebook carry over the basic, streamlined look of the HP Elite Dragonfly Chromebook and mark their major differences in the screen technology they use and the new keys HP's included in its laptops' keyboards.
The Dragonfly Pro Chromebook has a bright 1,200 nit, 14-inch, 2,560 x 1,600 LCD touchscreen display and a respectable 8MP webcam for video calls. HP also claims the Dragonfly Pro Chromebook should get "all-day battery life" off its 51.3Wh battery.
Dragonfly Pro Chromebook
Processor: 12th Gen Intel Core i5-1235U
Display: 14-inch, 2,560 x 1,600, 1,200 nits, multitouch
Webcam: 8MP camera
RAM: 16 GB LPDDR5 RAM
Storage: 256 GB SSD
Ports: 4 x USB-C ports (Thunderbolt 4 and USB 4)
The Dragonfly Pro trades ChromeOS for Windows 11, and Intel for AMD, specifically the AMD Ryzen 7. The laptop also comes with several custom hotkeys that act as shortcuts to settings and features, the first and most important (to HP) being 24/7 customer support. With the push of a button, you can start chatting with HP's customer support team, a self-styled alternative to taking your computer to Apple's Genius Bar for troubleshooting. Along with customer support, HP is also including a Control Center button for making quick settings adjustments, a Camera button for doing the same specifically for camera settings, and a fourth customizable key that can be assigned to a function of your choice.
Dragonfly Pro Specs
Processor: AMD Ryzen 7 7736u
Display: 14-inch, 1,920 x 1,200, 400 nits, multitouch
Webcam: 5MP IR camera with shutter
RAM: 16 GB LPDDR5 or 32 GB LPDDR5 RAM
Storage: 512 GB or 1 TB SSD
Ports: 2 x USB-C (USB 4), 1 x USB-C (SupserSpeed USB 3.2 with HP Fast Charge)
HP's Dragonfly Pros aren't its only new laptops (there's also the Dragonfly G4, Elitebook 1040 G10, and the Elite x360 1040 G10) nor its only type of new computer (the new HP 27-inch AIO goes all-in on recycled materials), but they remain its most compelling. The fact HP is expanding the line is as good a suggestion as any that interest is only growing.
Enter the 45-inch Ultrawide
The HP E45c G5 DQHD Curved Monitor, by all appearances, rules. At 45 inches, it's one of HP's larger monitors and its largest curved monitor, with 400 nits of brightness and a resolution of 5,120 x 1,440. The big feature of HP's new curved monitor is "Virtual Dual Display," which lets the 45-inch screen act as two separate 24-inch displays that can keep your workspaces separate without relying on windowing or entirely separate monitors.
E45c G5 DQHD Curved Monitor Specs
Size: 42.81 x 12.04 inches, 1500R curvature
Resolution: 5,120 x 1,440
Brightness: 400 nits
Ports: 2 x USB-C (SuperSpeed and Alt Mode DisplayPort), 1 x HDMI 2.1, 1 x DisplayPort 1.4, 4 x USB-A (SuperSpeed)
Availability
HP says the Dragonfly Pro and Dragonfly Pro Chromebook will be available in Spring 2023, with actual pricing to be revealed closer to launch. All HP E-series G5 monitors (including the curved one) will be available in January, starting at $219.
INVERSE brings you everything from the fun and futuristic world of consumer technology at CES 2023. For all the latest technology coverage from the show, go to the INVERSE CES 2023 hub.