Dolby's spatial audio makes Mercedes' Maybach sound as luxurious as it looks
If you're driving a car that costs as much as a house, stereo sound just won't do.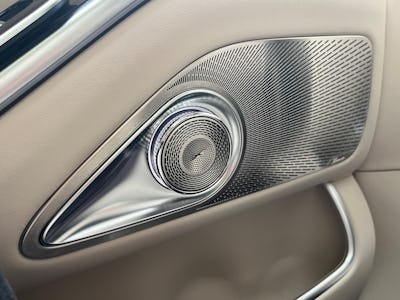 James Pero / Inverse
As exciting as it was for me to finally step foot in a Maybach, Dolby somehow managed to steal the thunder of a car that essentially defines the words "luxury automobile."
Dolby is no stranger to orchestrating audio in cars, but its integration with Mercedes-Benz is arguably the company's most ambitious tie-in yet, bringing together Dolby Atmos' spatial audio, dozens of hi-fi speakers, and an Apple Music integration that makes finding and playing compatible songs incredibly simple.
At CES 2023, I got to hear firsthand how Dolby Atmos' spatial audio translates, and — at the risk of spoling the words ahead — I can firmly say it's going to be hard to go back to the flat, vanilla world of stereo sound.
The sound of space — For the uninitiated, spatial audio is exactly what it sounds like — 3D audio that encompasses listeners from all sides. The thing about spatial audio, especially when Dolby is involved in the idea, is that it's easy to explain, but difficult to really capture with words just how immersive the experience can be. But for the sake of science and CES, I'm going to give it my best shot.
The first thing you need to know is that Dolby Atmos is getting a lot of help from the Maybach's sound system. To achieve the most luxurious spatial experience, Mercedes outfitted the $200,000-ish Maybach with Burmester's high-end 4D sound system: a grand total of 39 speakers, including six 3D speakers positioned above passengers and four "near-ear speakers" in the front seats, and an 18.5-liter subwoofer.
Easily my favorite part of Burmester's system is the eight sound transducers (or exciters) that are meant to give the passengers a "haptic" element. There are two transducers in each seat, and the tactile experience of feeling the sound vibration (a subtle but noticeable rumble on your back) really does amplify the listening experience — no pun intended.
Naturally, the way passengers are able to experience music is also highly customizable. Using the center console, drivers are able to toggle through "sound profiles" that change how the music is relayed to passengers in various areas of the car. You can choose balanced options like "4D" sound or target the music to one specific passenger using "VIP mode."
That last option might seem pretty selfish, but remember, this is a Maybach after all, and it wouldn't be outlandish to assume that a personal driver is doing the actual driving for you while you lounge in the backseat and count money, or whatever it is people with Maybach's do.
You can even create a custom sound profile if none of the presets are scratching your particular audio itch. Naturally, this customization experience is just as lavish as the rest of the Maybach.
To help you arrive at your ideal customized sound profile, the car's UI walks you through a series of prompts playing different instruments (a violin, a cello, drums) and lets you adjust their levels according to your liking. At the end of the prompts, you should have a sound profile that fits your personalized needs.
The Dolby effect — That's the magic of Dolby Atmos, really. Even if you've seen the name 1,000 times, when you stop to think about what Dolby's software is actually doing — expanding humdrum stereo sound into various channels and interprating those sounds as if they were 3D objects — it feels groundbreaking all over again. I really sound groundbreaking, too.
Even if all of this sounds perilously close to fancy equalization, to your ears, the experience of hearing sound shift about the cabin is pretty much audio magic. You don't need a world-class audio system or AI sound interpretation to enjoy listening to music in your car, but as someone who has seen the other side, just know: you do want it.
INVERSE brings you everything from the fun and futuristic world of consumer technology at CES 2023. For all the latest technology coverage from the show, go to the INVERSE CES 2023 hub.