Asus sidesteps VR headsets with laptops capable of glasses-free 3D
3D is back at CES 2023. This time in the Asus ProArt Studiobook and Vivobook Pro laptops.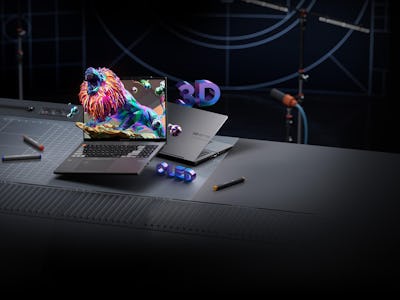 Asus
Forget the bulky VR headsets. With Asus' two latest laptops, you won't need to strap on an entire VR headset to get a quick glance at a 3D model you're working on. At CES 2023, Asus announced two laptops with its Spatial Vision technology where its OLED displays can generate a 3D image.
The Spatial Vision tech will be available on Asus' ProArt Studiobook 16 3D OLED and its Vivobook Pro 16 3D OLED. The displays offer a quick-and-dirty way to view a 3D model with the push of a button. It's probably not as accurate or reliable as viewing the 3D model through a VR headset, but it's certainly much more convenient.
Specs to match — Asus says the Spatial Vision displays have a lenticular lens layer laid on top of the OLED panel, pairing it with eye-tracking technology to make sure the 3D model comes out correctly. In simple terms: the 3D screens work like bigger versions of the Nintendo 3DS.
Even when you're not using the 3D feature, both the ProArt Studiobook and Vivobook Pro still make for decent work laptops. The ProArt Studiobook has a 16-inch 3.2K OLED display with a 120Hz refresh rate, powered by a 13th Gen Intel Core i9-13980HX processor and Nvidia's GeForce RTX 40 Series Laptop GPU. You can also fold the laptop completely flat and use a stylus on the haptic touchpad.
The Vivobook Pro will likely be the most affordable of the two but has the same 16-inch display, Intel processor, and Nvidia GPU. You can spec the Vivobook Pro with up to 64 GB of DDR5 RAM and up to 2TB of PCIe 4.0 SSD. Both of the laptops will have Thunderbolt 4 ports, but the Vivobook will also have an SD card reader.
Try before you buy — Asus says it plans on releasing these 3D laptops in the second quarter of 2023. While the ProArt Studiobook's 3D capabilities are impressive, it isn't without some stuttering and eye-tracking lag, according to some early testers.
The technology is still fairly new, but there are other companies experimenting with it so far. Acer previously announced its Spatial Labs tech and eventually incorporated it into one of its Predator gaming laptops. As for Asus, it hasn't revealed the pricing for either the ProArt Studiobook or Vivobook Pro, but we should expect a premium for the 3D technology included.
INVERSE brings you everything from the fun and futuristic world of consumer technology at CES 2023. For all the latest technology coverage from the show, go to the INVERSE CES 2023 hub.