A Foldable iPad Is Proof That Apple Has Outgrown Its Wait-and-See Mentality
Rumors and predictions point to the launch of an Apple foldable far earlier than the company traditionally enters new product categories.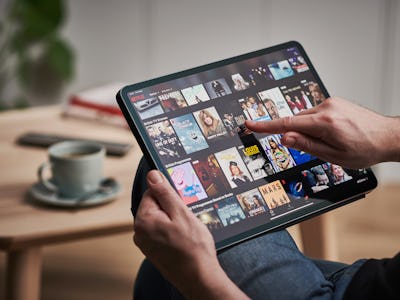 Future Publishing/Future/Getty Images
The iPad could fold next year. Supply chain analyst and reliable Apple watcher Ming-Chi Kuo is "confident" the iPhone maker will introduce a foldable tablet in 2024, a rapid entry into a new product category that really only took off a few years ago with the Galaxy Z Fold 2.
Apple's been rumored to be exploring foldable devices since at least 2022, but given Kuo's track record, there's reason to believe Apple will go through with its plans. But what's odd about a foldable iPad isn't that Apple would do it at all, it's that it's happening so soon.
Apple is cautious
Not being first is a virtue Apple tends to take very seriously. The company wasn't the first to smartphones (that would be the Blackberry or the Handspring Treo), tablets (Microsoft pushed the form factor first), or modern smartwatches (look to the Samsung Galaxy Gear or the Pebble Watch), but it's arguably come to define those categories because of the quality of life improvements and design taste it brought when its version launched.
Arriving late to the party lets Apple benefit from other companies taking risks and generating interest in a new idea before it can sweep in and clean up the mess. The strategy has worked for Apple broadly, but as of late, most of its new popular products have relied on its history-making one: the iPhone. Apple has described the AirPods as "a runaway success" but one that's entirely dependent on you owning its pre-existing hardware to fully enjoy. Apple sells more Apple Watches than the entire Swiss watch industry, but you also need to own an iPhone to even use an Apple Watch in the first place. The company doesn't necessarily need something to carry sales beyond the iPhone, but it would probably be safe to at least try.
The clock is speeding up
That growing sense of urgency (which is, again, all relative for a trillion-dollar company) is why big bets like a mixed-reality headset or a foldable tablet are hotly anticipated. Not just because everyone is curious about what ideas Apple might have about virtual reality apps or foldable hinges but because neither category is a sure thing.
The awareness of virtual reality has certainly improved — Meta sold a lot of Quest 2s — but I don't think anyone can rightly claim the average person is interested, let alone ready for whatever the metaverse is. Samsung sells a mature foldable product in the Galaxy Z Fold 4 and Z Flip 4, but there are certain hardware issues with thin, folding glass I'm not sure will be engineered out of existence in a year's time.
Apple's entries into either category are both risky and entirely hypothetical for now, but they do illustrate the interesting position the company is in. With everyone trying to make the next iPhone, there might not be as much time to stay on the sidelines and see what sticks. A "foldable iPad" is as much the promise of an exciting new product from Apple as it is further evidence that the time for "waiting and seeing" could soon be behind the company.