Forget E3: Why Tribeca Is the Future of In-Person Gaming Events
A more intimate festival approach is a welcome counterpoint to Hot Geoff Summer.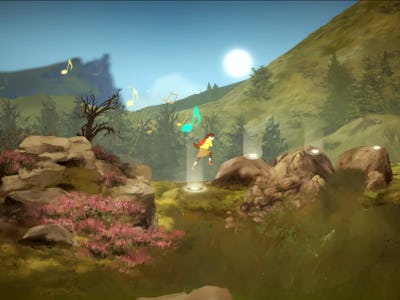 inkle
June is traditionally peak news season for the games industry, with struggling trade show E3 giving way to Geoff Keighley's Summer Game Fest. Players and journalists are already bracing themselves for a deluge of trailers, announcements, and growly-voiced "world premieres." In contrast, the organizers behind Tribeca Games say a more intimate, creator-driven approach helps their selections shine.
"There is a sense of validation," Tribeca Games Vice President Casey Baltes tells Inverse. "The process of game creation is very long and often lonely. To have the privilege to select a game and then to provide recognition tells creators that the process may have been long and hard, and they may have questioned themselves, but we believe in this game."
During the Tribeca Festival in recent years, it isn't uncommon to see the likes of Hideo Kojima and Sam Barlow representing the games industry alongside avant-garde filmmakers and cinema icons. The Tribeca Festival has had an official selection of video games since 2021, and this will be the third year games take center stage at the festival.
The 2023 selection spans seven games, including roleplaying musical Stray Gods, mountainous adventure A Highland Song, and The Expanse: A Telltale Series, among others. This year's Festival will run from June 7-18 and include demos for the games in the official selection as well as special events. These include a Q&A with Hideo Kojima following the premiere screening of Hideo Kojima: Connecting Worlds, a documentary about the founding of Kojima Productions and the development of Death Stranding.
As a melting pot of cinema and games, Tribeca is special amongst the industry's many showcases that have popped up to replace E3.
"We are in a really unique position to be able to sit across multiple industries from a sky-high view," says Baltes.
Ahead of this year's Festival, Inverse sat down with Baltes to talk about this year's selection, the unique opportunities Tribeca gives creators, and how the festival's approach to games has and hasn't changed over its short history.
This Interview has been edited for clarity and brevity.
How does this year's official selection speak to the stated goal of Tribeca Games to push forward the idea of games as storytelling and art?
Tribeca as a whole and Tribeca Games has always been about discovery. It's also been about highlighting creators with different perspectives. More than ever before, this year's selection shows games that are actually exploring identity.
Many of these games have a real sense of place. You can feel and see the geography and cultural references within a lot of the games that we'll be showcasing this year. I love to see elements of traditional gameplay infused with very personal stories and very personal regions to these creators.
The official selection has never been greater than ten games. What are the pros and cons of having a relatively small collection?
With a small number of selections, we're able to really dive deep into each game. They have to fight less for attention within the selections. We can't select every game that comes our way. So, we have to be really careful about our choices. But once we do, we do feel really passionate about every game selection that we make.
What do you feel are the benefits of the festival format?
Where we really shine is being able to tell the story of each game. We dive into the nuance and go behind the scenes of each game. Not just talking about the games themselves, but who's behind the making of them. What is the studio, who is the creator, and what are their inspirations?
It really allows us to explore the process. We're a very process-oriented festival, we'd like to highlight that there actually is a really deep process that is inherent in creating a game. You're really able to see these games as artistic processes that have an identity and a fingerprint of the people who made them.
Has positive feedback from past developers led to more interest in Tribeca Games since the first official selection in 2021?
I hope so. I think so. And that's our intention. I'm definitely with my ear to the ground, even asking previous selections how we can help more. I've received good responses from many of the teams, and I always want to hear more.
We are a festival that showcases games in the pre-release stage. So, I love tracking and following the teams along the way through launch. Then they go on to create new games, to hopefully submit for future selection.
Does placing games so prominently in the festival help normalize video games next to other artistic mediums?
One of our goals is to influence that cultural shift into the broader acceptance of games as art and storytelling. What people do resonate with, and understand, is the process. It's an artistic process, and it's universal — the way that design is approached, the way that character is approached, and the way story is approached. It is different for each team across every medium but it has the same goal.