Tchia Is a Cultural Marvel Worth Touring on PS Plus
A coming-of-age story based on New Caledonia.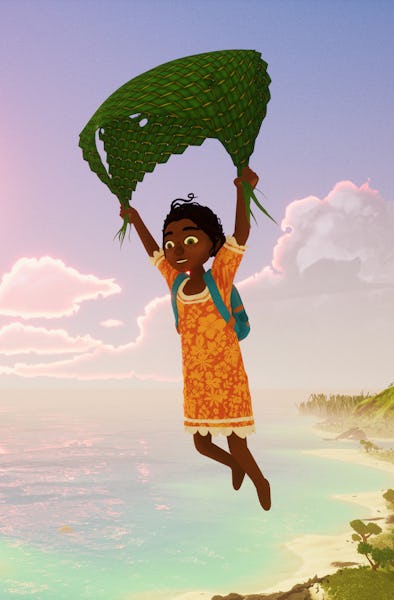 Acaweb
Exclusives are the big guns of the console wars. First, there was shadow-drop launch of Hi-Fi Rush on Xbox Game Pass. PlayStation's answering back with the day-one subscription launch of Tchia, an open-world adventure that blends Legend of Zelda and Disney-esque aesthetics. It's available on March 21 for PS Plus Extra and Premium subscribers.
Tchia is inspired by New Caledonia, a French territory in the South Pacific. Developer Acaweb flew developers there so that they could fully immerse themselves in the game's setting.
Phil Crifo and Thierry Boura, the studio's two founders, were childhood friends that grew up on the archipelago. They drew inspiration from the landscapes, music, languages, folklore, and traditions to create Tchia. In an Epic Games documentary, the development team revealed that they replicated local biomes, animals, and plants from the area.
Tchia features fully voiced cutscenes in French and Drehu, an indigenous language spoken on the islands. It also incorporates voice acting and music from locals to keep the game authentic.
In an interview with MinnMax, Crifo says their main translator helped them reach out to locals that were willing to help out with voice acting — or could recommend their neighbors.
Tchia's coming-of-age story and endless sailing calls to mind Wind Waker and Moana. Our heroine leaves her home island after her father is kidnapped by the big bad's henchman, Pwi Dua. Tre, one of their only contacts with the outside world, gives her his boat so that she can save him. On the way, she discovers lands she's never seen and befriends new people to help her on her quest.
Tchia is slow and leisurely, which may be offputting for some. Its gameplay is quite literally skippable — there's a button that allows you to move onto the next major cutscene. It's supposed to be used in emergencies when you're stuck, but really, it can be used at any time. Tchia also features an auto-play mode for moments where the titular character plays to the beat of the songs in specific cutscenes, so that you can listen to the music without worrying about the rhythm game part of it. It's always nice to see design choices with approachability and accessibility in mind, but the ability to skip so much of the gameplay undercuts the stakes and immersion somewhat.
Tchia leaves offers plenty of room for exploration, but might wear thin with more story-driven players. Still, there are plenty of memorable cultural references worth admiring in Tchia's forests and rivers, if you're willing to slow down and look around.
Tchia will launch on March 21, 2023 for PC (via Epic Games), PlayStation 4, and PlayStation 5. It's a launch title on PS Plus.