Story of Seasons: A Wonderful Life Doesn't Modernize Harvest Moon Enough
A faithful remake of Harvest Moon: A Wonderful Life.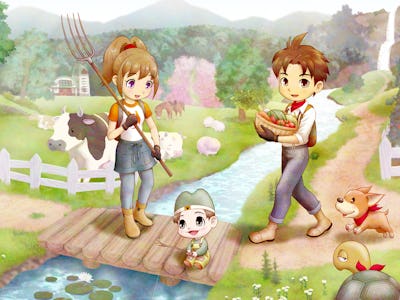 XSEED Games
Harvest Moon: A Wonderful Life stood out on GameCube thanks to its adorable pet pup and multicolored cows, all showcased with eye-popping 3D visuals that were a far cry from the little pixel people featured on Game Boy Advance. It wasn't the only farming sim of the era, but it stands out as perhaps the most important — particularly considering its influence on modern indie darling Stardew Valley.
Now, almost 20 years later, the development team at Marvelous Inc. have remade the title with XSEED, helping to bring franchises like Harvest Moon (now called Story of Seasons) and Rune Factory to a wider audience. While Story of Seasons: A Wonderful Life is on the right track while it tries to capture a sense of nostalgia for a GameCube classic, it may not offer enough to stand out in the crowded subgenre it helped establish.
Like many Harvest Moon games, A Wonderful Life starts with a farm that the protagonist inherits from a family member. Takakura, the protagonist's father's best friend, teaches them how to farm as they bond with the townspeople and eventually wed one of them. Like Rune Factory 5, it also incorporates same-sex marriage and child-rearing so that LGBTQ+ players are represented in the gameplay.
A Wonderful Life enables players to experience different stages of the protagonist's life, something that isn't explored in the other Story of Seasons games like Friends of Mineral Town or Friends of Olive Town, either. You raise a child from infancy to adulthood, and your choices affect how the child eventually turns out. Of course, players need to invest hours of gameplay before reaching this stage of life, but it offers more "plot" outside of the core gameplay loop.
Many of the mechanics from the original game work similarly in the remake. However, it feels like a missed opportunity when devs could have added more quality-of-life improvements like item stacking or a fail-safe for planting crops without them overlapping with each other, features we got in Rune Factory 5.
For better or worse, A Wonderful Life simply gives the beloved classic a facelift when it probably needed something a bit more.
Marvelous also redesigned some characters for Story of Seasons: A Wonderful Life. For example, Matthew looks more like a reskinned version of Marlin, one of the bachelors from Harvest Moon: Another Wonderful Life. Instead of wearing a mullet like the old hairstyle, he wears his hair long with sweeping bangs like a boy band member. Those hoping for the same exact characters might be upset at the makeover, but it shouldn't affect the experience for newcomers.
Story of Seasons: A Wonderful Life comes off as a mostly faithful remake, which is also part of the problem.
This isn't 2004, where a 3D farming sim with cute characters and animals is a novelty. It might not stand out in today's saturated farming sim market, where even indie developers can create farming sims that outsell their AAA counterparts. It holds up so far as a version of A Wonderful Life to play on modern consoles, but we'll have to see if that's enough to draw a crowd.
Story of Seasons: A Wonderful Life will launch for Nintendo Switch, PlayStation 5, Microsoft Windows, Xbox Series X and Series S on June 27, 2023.