Everything You Need to Know About the Splatoon 3 Monster-Themed Splatfest
Channel your inner mythical creature.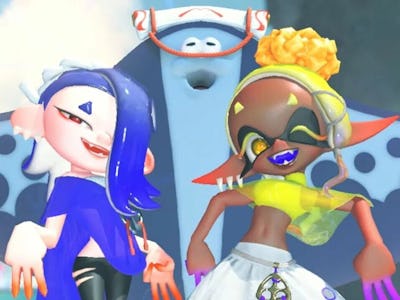 Nintendo
The previous Splatoon 3 Splatfest made players decide between dark, white, and milk chocolate. White chocolate came out on top, but the next Splatfest might be a much tougher choice. Nintendo has announced the next Splatfest, and it'll feature mythical creatures, including the Loch Ness Monster (Nessie), aliens, and the elusive Bigfoot. This Splatfest aims to keep Splatoon 3 interesting, giving players another reason to jump in. Here's what we know.
Splatoon 3 Monster Splatfest Start and End Dates
The upcoming Splatoon 3 Splatfest will begin on March 31, 2023, at 8 p.m. Eastern. It will run until April 2, 2023, at 8 p.m. Eastern, giving players a couple of days to participate.
A tweet from the official Nintendo account confirmed the details of the upcoming event.
Splatoon 3 Monster Splatfest Theme
The upcoming Splatfest is focused on mythical creatures. As revealed on Twitter, the Splatfest will feature Nessie, Aliens, and Bigfoot, offering three different options for players to choose from. "Which of these is real?" Nintendo asks.
Currently, voting is not available yet, but it typically opens up around a week before the Splatfest starts. So, check back around March 24, or so.
How Do Splatfests Work?
Splatfests are limited-time Splatoon events that require players to choose between different teams. Typically, the teams are preference-based, such as cats versus dogs, or spicy versus sweet versus sour.
Once you pick a team, you'll need to play Turf War matches during the Splatfest's time window. Throughout the event's duration, the community works together to earn points for the team they picked by winning matches. At the conclusion of the event, whichever team has more points is declared the winner.
Splatoon 3 Monster Splatfest Rewards
The rewards for Splatfests come in the form of Super Sea Snails, which are items used to upgrade gear. Depending on your performance while the Splatfest is active, you'll level up your Clout, which, in turn, results in various amounts of Super Sea Snails. It's unclear if the same exact reward system from the last Splatfest will apply to the upcoming one. We do know you'll earn more Super Sea Snails if you're on the winning team.
During the Pokémon Splatfest in November 2022, Nintendo actually awarded players with physical items such as T-shirts and keychains. While we'd love to see some Nessie, Bigfoot, or Alien-themed Splatoon 3 T-shirts, Nintendo hasn't announced any physical rewards for the upcoming Splatfest.