Sons of the Forest Infinite Item Cheat Blows the Game Wide Open
Never search for another item again.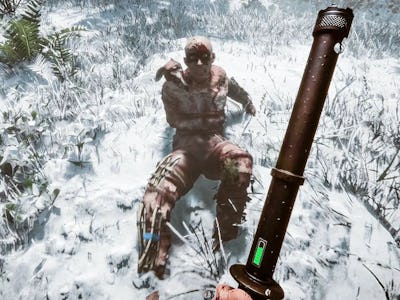 Newnight
In Sons of the Forest, resources are paramount to surviving the cannibal-infested woods. It's a survival game after all! But getting the items you need can be difficult and time-consuming. Thankfully, there's a nifty way to add any number of resources to your inventory by utilizing item IDs and a mod tool. It's an unofficial, and complicated process, but once you get it going, you can easily gain access to an infinite number of logs, torches, raw meat, or practically anything else in the game. In this guide, we'll show you how item IDs work and why they're so useful in Sons of the Forest.
How to Get Started
To infinitely duplicate any item, you first need to download a free piece of software called WeMod. After it's installed, head into Sons of the Forest within WeMod, and you'll see a list of cheats available, from no fall damage to infinite strength and others.
But if you want to spawn items, there's an important step you need to take. First, log into the game itself and make sure you load your save file within Sons of the Forest. Then, go back into WeMod, and enable Debug Console.
What Is an Item ID?
When utilizing the Debug Console with WeMod in Sons of the Forest, you can type in a command to spawn items. However, you cannot simply type in the name of the item to get it to work. Instead, you must use an item ID, which is a series of three numbers associated with a specific resource. Most items have an ID and you'll use them to gain as many of that item as you'd like.
How to Use Item IDs
After you've enabled Debug Console from WeMod, and jumped back into the game, press F1 within Sons of the Forest to bring up the console command. Then, type "spawnitem [whatever the item ID is] [amount you'd like to spawn] on" into the text field.
So, if you'd like to spawn six sticks, for instance, you'd type "spawnitem 392 6 on" and the items will appear immediately. In this case, the stick's item ID is 392, but remember, each item has its own unique ID you'll use to spawn them into the game.
Item ID List
So now that you know how item IDs work, it's time to start using them. Many item IDs have been discovered, allowing you to continuously spawn them until your heart's content. Below are all the known item IDs:
Alcohol: 414
Aloe Vera: 451
Air Canister: 469
Backpack: 402
Battery: 527
Blueprint Book: 552
Bone Armor: 494
Buckshot (Shotgun ammo): 364
Canned Food: 434
Cash: 496
Chainsaw: 394
Cloth: 415
Cooking Pot: 517
Crafted Spear: 474
Creepy Armor: 593
Cross: 468
Crossbow: 365
Crossbow Bolt: 368
Duct Tape: 419
Emergency Pack: 483
Energy Drink: 439
Energy Bar: 441
Energy Mix: 461
Energy Mix +: 462
Feather: 479
Fish: 436
Flare: 440
Flashlight: 471
Flask: 426
Food Tray: 512
Frag Grenade: 381
Golden Armour: 572
GPS Locator: 529
GPS Tracker: 412
Grab Bag: 351
Grappling Hook: 560
Guest Keycard: 526
Guide Book: 589
Health Mix: 455
Health Mix +: 456
Hide Armor: 519
Knife: 380
Leaf: 484
Leaf Armor: 473
Loot Pouch: 508
Log: 78
Medium Rock: 506
Modern Arrow: 373
Molotovs: 388
MRE snack Rations: 438
Noodles: 421
Pistol: 355
Pistol ammo: 362
Pistol Silencer: 374
Plasma Lighter: 413
Printer Arrow: 618
Printer Resin: 390
Radio: 590
Raw Meat: 433
Rebreather: 444
Revolver: 386
Rock: 393
Rope: 403
Rope Gun: 522
Severed Arm: 480
Severed Leg: 481
Shotgun: 358
Skin Pouch: 508
Skull: 430
Sled: 428
Slug (Shotgun ammo): 363
Small Rock: 476
Stick: 392
Stone Arrow: 507
Stun Gun: 353
Stun Gun Ammo: 369
Swimsuit: 619
Tactical Axe: 379
Tarp: 504
Tech Armor: 554
Tech Mesh: 553
Torch: 503
Turtle Shell: 506
Walkie-Talkie: 486
Wristwatch: 410
Zipline Rope: 523
Remember to use the associated item ID in the console command text box to spawn any number of that particular item.