Six classic stories that could become video games in 2023
The Hardy Boys are finally entering the Public Domain.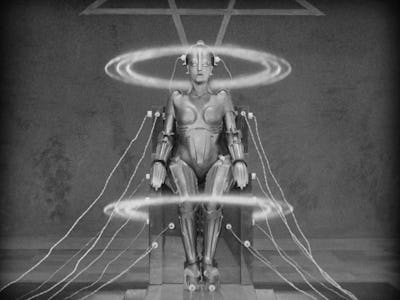 The first day of the new year marks Public Domain Day. This annual occurrence marks the day numerous works enter into the United States public domain and are free to use by anyone with no fear of any copyright claims being levied against them. In 2023, works entering the public domain date to 95 years ago, so the hottest media from 1927 is soon to be rife for adaptation. What better source could there be for game studios to take ideas from? Here are the six best properties that should be adapted into video games ASAP.
6. Wings
Video games and movies have a back-and-forth of homage and adaptation that goes both ways. While video games based on movies and movies based on video games both have their good, bad, and ugly titles it is hard to deny cinema's influence on gaming. The 2010s solidified a style of cinematic game that we still see today in games like God of Wår Ragnarok.
In the spirit of taking a page from cinema, the perfect property to adapt from the public domain would be Wings. The winner of the first-ever Academy Award for Best Picture, Wings follows two men who join the Army Air Service that are in love with the same woman. It is a story filled with romance and action, as well as aerial warfare perfect for a video game.
5. The Colour Out of Space
H.P. Lovecraft is best known for being a huge racist. Also, he wrote some stories that contributed to the genre of cosmic horror. With one of his most intriguing stories becoming public domain, developers can now adapt The Colour Out of Space without giving a penny to Lovecraft's estate!
Cosmic horror has had a big resurgence in video games, with titles like Bloodborne and Signalis showing the potential of the genre in gaming. The Colour Out of Space follows a named narrator attempting to uncover the mystery of a recent meteorite impact in the town of Arkham (not Batman's Arkham) and falling into a web of cults and unknowable monsters lurking around every corner. This story would be perfect for a survival horror game akin to Resident Evil or Silent Hill.
4. The Hardy Boys
The second biggest detective fiction coming into the public domain is the first three novels in The Hardy Boys series. The books follow brothers Frank and Joe as they solve a series of mysteries in their local area. Nancy Drew games already exist, so it makes sense for the sibling series to get an adaptation!
The Hardy Boys is perfect for a more teen-focused detective game in the form of something like Life is Strange or the Telltale catalog of games. You could explore the town and ask people questions, make choices and take down bits of evidence and conflicting statements to piece together the crime.
3. Metropolis
Few pieces of media have such iconic imagery as Fritz Lang's 1927 film Metropolis. The image of a robotic woman in an art deco future city feels burnt into the public consciousness, even though few have actually watched the film.
It takes place in a futurist urban dystopia and follows the attempts of a small group to rally the working class to help overcome the massive class inequality that this city suffers from. If the setting and themes remind you somewhat of BioShock then you wouldn't be wrong. Which makes Metropolis's one-of-a-kind visuals so compelling for a video game that plays on the same type of philosophically minded story that the BioShock series interrogates.
2. Amerika
The work of novelist Franz Kafka may not seem well-suited for video games, but I think that is just a lack of imagination! Take his unfinished novel Amerika, which goes into the public domain in 2023. The story is a bizarre account of the wanderings of a newly arrived teenage immigrant to New York City.
Literary fiction is seeing a larger influence on games in 2022. Pentiment, Citizen Sleeper, and I Was a Teenage Exocolonist all feel extremely literary in how they tell the game's narrative to the player. Amerika: The Video Game could be a Disco Elysium-like dialogue-heavy RPG that delves into philosophical themes.
1. Sherlock Holmes
While some Sherlock Holmes stories are already in the public domain, those who wanted to use the character have had to jump over some hoops and still risk legal action from the Doyle Estate. One notable example of this is the character Herlock Sholmes in the Ace Attorney series, a not-so-subtle product of the public domain issues surrounding the detective. But in 2023 the last Sherlock Holmes story enters the public domain.
Holmes is perfect for so many different types of games: detective puzzlers, story drive AAA adventures, visual novels — but I think we need to see Sherlock make an appearance in Ace Attorney. Could Capcom just rename Herlock Sholmes in future games? Absolutely. But Sholmes is a great parody character, and I want to see the "real" Sherlock Holmes enter the franchise and confront his double face-to-face. Get on it, Capcom.