MGS Collection Has a Glaring Omission — But There's a Silver Lining
Metal Gear Solid 4 is still missing ... for now.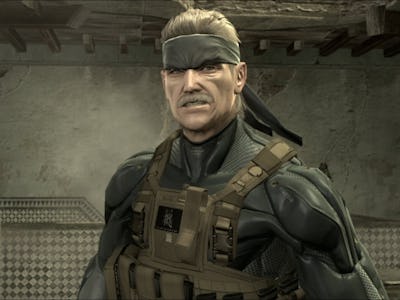 Konami
Sony revealed during the May 2023 PlayStation Showcase that a Metal Gear Solid 3: Snake Eater remake is in development, which is absolutely epic. But part of the announcement included the confirmation that there's a new MGS collection headed to modern platforms. Titled Metal Gear Solid: Master Collection Volume 1, this package will contain the first three games in the beloved series. While this was a nice surprise, the collection is lacking Metal Gear Solid 4: Guns of the Patriots, a game that has been stranded on PS3 since 2008. But thanks to some cheeky wording in the collection's description, hope for a Metal Gear Solid 4 port may not be lost, after all.
The Metal Gear Solid series has been brought to multiple platforms, from PlayStation, to Xbox, and even Nintendo's family of systems. It was wild to see a remake of the first game, Metal Gear Solid: The Twin Snakes release for the Nintendo GameCube in 2004.
While the series is mostly accessible on various systems, Metal Gear Solid 4 is not. To this day, Metal Gear Solid 4 is only available on PS3, making it difficult to experience in 2023. It was never ported to any other platform (not even PC) and remains trapped on outdated hardware. Finding a working PS3 system isn't the easiest task these days, meaning many fans will likely miss out on one of the best games in the series.
When visiting the Konami website, a short blurb offers some hope for the future of the series. Describing Metal Gear Solid: Master Collection Volume 1, a caption reads "Introducing the first in a new collection of games from the legendary series."
This implies that other Metal Gear Solid collections could arrive at a later date. If so, it would make sense to package the next set of games in the series into Volume 2, including Metal Gear Solid 4: Guns of the Patriots, Metal Gear Solid: Peace Walker, and the most recent mainline entries, Metal Gear Solid V: Ground Zeroes and The Phantom Pain.
Konami hasn't revealed much about the Volume 1 collection, other than to say it's launching in the fall of 2023. The website says "Stay tuned for more information," but it's unclear when the publisher will reveal more.
Metal Gear Solid 4 is an underappreciated entry in the legendary series (likely because it's hard to get ahold of). It serves as the conclusion to Snake's saga, delivering countless emotional moments that will no doubt bring a tear to your eye. Given its importance to the overall story, it's baffling Konami hasn't made it available on any other platforms all these years later. Though, surely Konami has realized this mistake and will finally port this (and other games) to modern platforms so more players can enjoy it.
Metal Gear Solid: Master Collection Volume 1 launches this fall.