Guardians of the Galaxy Leaves Game Pass Next Week — So You Need to Play it ASAP
"This is about growing together as a team."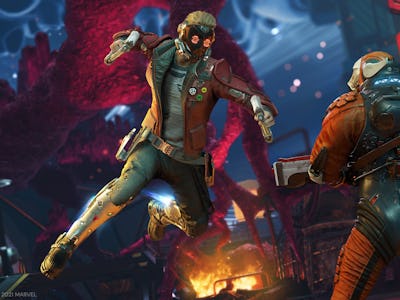 Square Enix
Marvel's Guardians of the Galaxy is a unique video game experience that's absolutely worth playing, even if you've seen the Marvel Cinemetic Universe movies. This isn't simply a regurgitated repeat of the films; It's Eidos-Montréal's own creation that adds its own twist on the story and characters, even though they come from the same inspiration. Xbox Game Pass subscribers who haven't experienced the underrated Marvel game have until March 15 before it leaves the subscription. Here's why it's worth trying before then.
Peter Quill, a.k.a. Star-Lord, leads the Guardians of the Galaxy, a ragtag group of mercenaries with their own agendas. The group trespasses into the forbidden Quarantine Zone for a lucrative mission, which lands them with a hefty fine that they need to pay — or else. Cue a 20-hour journey filled with suspicious artifacts, rogue galactic beings, and comedic shenanigans.
Marvel's Guardians of the Galaxy impresses with its story, which arguably trumps the Marvel Cinematic Universe movies with its emotional depth. Players get the satisfaction of watching a tense group of mercenaries evolve a true team of comrades. It's also got a surprising amount of twists for what might seem like a cash grab at first glance. Remember: It's got Marvel in the name, but it isn't the same as what Marvel Studios is selling in a theater.
Each character receives a dedicated story arc that explores their personal story, something that might not be obvious in a film. Developers took the time to write unique reactions for each of the characters for every little thing that happens. The writing also explores the multiple sides of each character, including one heartwarming scene where Star-Lord and Drax open up to each other about their traumatic experiences.
Because Marvel's Guardians of the Galaxy is a game, it has the room for character development. A movie only has two hours to warm your heart, but a game can take ten times as long.
The game also boasts laugh-out-loud dialogue and a banging soundtrack. It's got the quips you would expect to see in a Marvel movie and perfectly translates them into a game setting. As our reviewer writes, it "put Mass Effect's Vanguard and Renegade system to shame."
It's not a flaw-free game. Mechanical stumbles like sluggish movement and mediocre combat hold Marvel's Guardians of the Galaxy back from greatness. Some features like the Huddle, which depends on choosing '90s songs for pep talks, interrupt the fluidity of its battles. We also have some gripes with its accessibility during a certain part of the game, even if it generally has impressive accessibility options overall. Just don't expect the gameplay to compare to God of War.
You don't need to be a Marvel fan to enjoy Guardians of the Galaxy. Sure, it's a fresh take that fans will probably enjoy, but it also could be the pull a newcomer needs to become a fan. Plus, if you've got an Xbox Game Pass subscription, why not give it a try? It can cost up to $60 to buy it after the fact.