Mario Kart: Super Circuit Is an Underrated Gem on Switch Online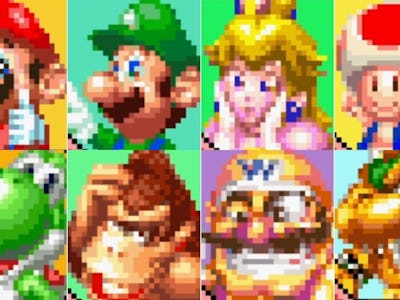 A challenge for any new entry in a storied video game franchise is presenting something new while giving players a familiar feeling. Someone who has played a previous entry should be able to feel familiar with what's going on, and they should also be able to do something different. One sword in the first game? Dual wielding in the second, and so on. The longer the franchise has gone on, the more complex this can become.
For Mario Kart: Super Circuit, the 2001 entry in the franchise which had begun nearly a decade prior, the new thing was the way you could play it. The third entry in the series, it was first released for a handheld console: the Game Boy Advance. Nintendo had resisted putting the brightly colored and fast-paced racing game on the small screen of the original Game Boy, which might prove confusing. The wait paid off, and you can see for yourself why right now if you've subscribed to Nintendo Switch Online + Expansion Pack.
Super Circuit is not the most innovative Mario Kart game. All of the levels from the original Super Mario Kart are there, minus many of their hazards. The sprites and general style are based on the 1997 mega-hit Mario Kart 64. The pick-ups are replays as well, with Super Circuit being the rare Kart entry without any new items.
And yet, for the new owners of the Game Boy Advance in 2001, a game that combined Super Mario Kart and Mario Kart 64 was exactly what they were looking for. Because those games are both very fun, which Super Circuit manages as well.
There are twenty new tracks on Super Circuit, some of which prove to be very charming, like Cheese Land, Cheep-Cheep Island, and the challenging Lakeside Park. Compared to some N64 games in the same era, like F-Zero X, which could seem blocky and filled with empty space, the sprites and scaling backgrounds of Super Circuit positively vibrate with life. Fish jump in the background of seaside levels, lava boulders fall out of the sky from the Lakeside Park volcano.
The races typically take around two minutes each, with the biggest challenges coming not from the computer but from tight angles and drifting off the course. Getting into rough sand or grass can slow down a driver considerably, far more than a shell's hit or hitting a slippery patch. But none of these will truly hold a player back. For a driver with a little experience, a comeback is always possible in a game like Super Circuit.
And of course, who plays Mario Kart games solely against the computer? This is a game meant to be played by multiple people. Back in the day, that meant getting a Game Link Cable. No such accouterments are needed now. For the Kart completionist in your life, Super Circuit is a fun throwback.