How Long Is Like a Dragon: Ishin? Here's How Many Chapters and Hours to Expect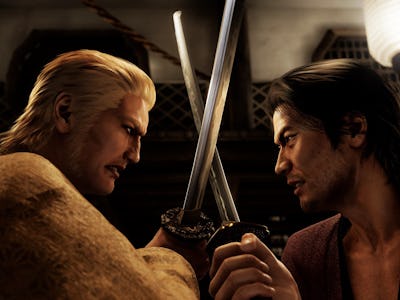 Sega
Like a Dragon: Ishin, a Yakuza spinoff that used to be a Japanese exclusive, has finally landed on the international market. Sakamoto Ryoma has been falsely accused of murdering his adoptive father, Yoshida Toyo. He embarks on a mission to find the assassin and clear his name.
Like a Dragon: Ishin is the first in the series to take place in feudal era Japan and stars characters based on influential figures from Japanese history, including the player character. Ryoma takes inspiration from a real-life samurai and Japanese politician from the Edo period. He also hilariously shares a face with Kazuma Kiryu. If you're a Yakuza fan or Japanese history buff, of course, you'd want to pick up this game — or at least consider it.
Many RPGs are epic sagas that can take days of your free time to complete. So where does Ishin lie? Here's how long it takes to beat the latest Yakuza spinoff.
How long does it take to beat Like a Dragon: Ishin?
Like a Dragon: Ishin sticks to the same story beats as its 2014 version, so it takes about the same amount of time to finish it. According to How Long to Beat, it takes a median of 21 hours to beat the original. Many reviewers, including our own, report that the new version should take about 25 hours to beat. However, players that have breezed through the game in under 20 hours or taken closer to 30, even while only focusing on the main story.
You're doing yourself a disservice if you don't engage with any of the side content, though. In fact, you should complete some of them for the rewards. Yakuza games are known for many memorable moments that come out of the charming, sometimes whacky side quests. Our reviewer ultimately clocked in around 80 hours after playing through most of the side content. You can easily double your playtime completing even half those missions.
As per our review, Ishin has the "best substories and minigames this series has ever seen."
Like a Dragon: Ishin Chapter List
Like a Dragon: Ishin features 14 chapters, all of which are listed below:
Chapter 1 – Escaping Home
Chapter 2 – The Man Named Saito Hajime
Chapter 3 – Mibu Wolves
Chapter 4 – Joint Struggle
Chapter 5 – The Iron Code
Chapter 6 – The Ikedaya Incident
Chapter 7 – The Two Ryomas
Chapter 8 – The Mad Dog Howls
Chapter 9 – Feud of the Ages
Chapter 10 – True Identities
Chapter 11 – The Great Gamble
Chapter 12 – Kyo Ablaze
Chapter 13 – The Assassination of Sakamoto Ryoma
Chapter 14 – Dawn Breaks
Note that some of these will take longer to complete than others. Also, be sure to check for new content in between these chapters. Some side quests don't pop up until certain chapters, so these might steal your attention away from the main story during your playthrough. There's no rush to stay on track, so go wherever feels important at the time.