Layers of Fear Devs Want to Challenge the Definition of Remake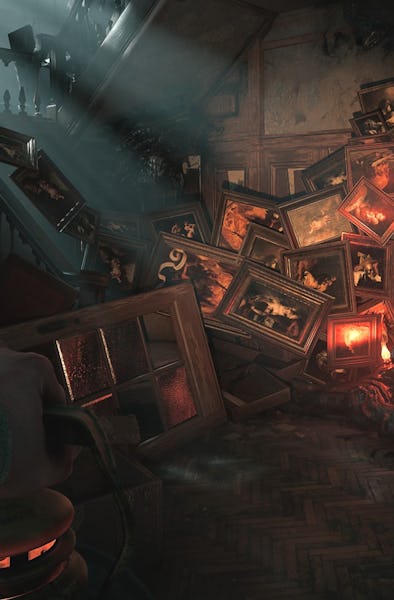 Bloober Team was founded back in 2008, the studio really burst onto the scene with the 2016 horror title Layers of Fear. Its creepy atmosphere and strong psychological horror premise dropped players into a literal haunted house, with memorable results. Seven years later, Bloober returns to Layers of Fear with an ambitious collection that falls somewhere between a remaster and a remake of the entire series.
If that sounds a bit weird, that's because it is.
The new Layers of Fears is being co-developed by Bloober and Anshar Studios, the developer that previously put out another Bloober "remake," Observer: System Redux. During a hands-off preview session, Damien Kocurek, creative director at Anshar, insisted that Layers of Fears wasn't a full remake, but instead opted for calling it a "definitive" version.
The project merges both Layers of Fear games, in addition to a new DLC titled "The Final Note" that gives a new perspective on the first game and an "untold" story called "The Writer." The project has been built in Unreal Engine 5 to support new visuals and 4K resolution, but there's much more than just that.
Kocurek says the team has introduced a host of new gameplay elements to both games, including a new lantern-like item introduced to the first Layers of Fear. This new item actually gives you a bit of defense against the creatures in the game, burning them out of existence by focusing the light. (In the previous version, you were defenseless.) You can also use it to reveal details of your surroundings and helpful items.
These changes aim to enhance, rather than alter the experience. The development team's goal was to retain everything that made the game work, while simultaneously making the world feel more interactive and vibrant.
If there's one main criticism you could weigh at the Layers of Fear games before now, it's that they're a bit too scripted with an overreliance on jump scares. New elements, like the lantern, could add more weight to the horror — especially now that there are ways counteract some of the horrors you face.
Over the years, Bloober's games have grown more complex, with both Observer and The Medium placing greater emphasis on atmosphere and tension. While my demo only gave me a brief glimpse, it seems like Bloober and Anshar are taking those lessons to heart here. This new Layers of Fear looks absolutely gorgeous, but we'll have to wait to see if those enhancements and improvements are more than skin-deep.
With Bloober's upcoming Silent Hill 2 remake, it's easy to see how these new elements in Layer of Fear could work as a sort of testing ground for future work. However, if Bloober and Anshar can make Layers of Fear more immersive and interactive, it's easy to see how this collection could be a horror gem in its own right.