Everything you need to know about Kirby's Dream Buffet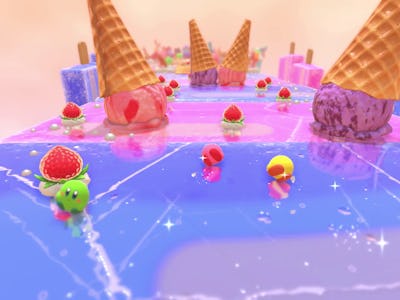 Nintendo
Even the biggest Kirby fans probably didn't expect another game starring the pink puffball this year, especially just a few months after the excellent Kirby and the Forgotten Land. But not only has Nintendo already announced another Kirby game, it's also coming out sooner than you may expect. Shortly after its announcement, Nintendo filled in lots of missing details about the upcoming game, so here's everything we know about Kirby's Dream Buffet.
What is the Kirby's Dream Buffet release date?
Kirby's Dream Buffet was announced with a Summer 2022 launch window, before Nintendo gave a firm date just a few weeks later. You'll be able to download Kirby's Dream Buffet for Switch starting August 17, 2022.
Is there a Kirby's Dream Buffet trailer?
Yes! Kirby's Dream Buffet was announced in a short and characteristically cute teaser showing off a new type of gameplay for a Kirby game.
After the Kirby's Dream Buffet release date announcement, Nintendo also released a new gameplay overview trailer. This second trailer goes into much more detail about how the game will actually work.
What is Kirby's Dream Buffet gameplay like?
To paraphrase most of the reactions to the announcement trailer on Twitter, it's a lot like Fall Guys. Kirby's Dream Buffet is a multiplayer party game where up to four players race through an obstacle course, avoiding traps and completing mini-challenges along the way. Nintendo says it's designed to be easy to understand and play for people of all skill levels, while still offering a challenge.
Kirby's Dream Buffet plays out over three game modes. First, you race your pals up a towering cake full of both powerups and obstacles. Despite the clear Fall Guys comparison, Kirby's Dream Buffet seems to be a much less cutthroat competition, befitting the character's perpetually cheerful look.
In the second part, you collect strawberries on a variety of stages while trying to keep your opponents from getting their fill. Finally, you compete in a Kirby-style battle royale. The more strawberries you've collected, the more you can push your friends around. Knocking someone off the stage lets you add their strawberries to your haul. After all that, the biggest Kirby — the one who ate the most strawberries — wins.
One Kirby twist here is that everything is just adorable. The race course itself is a mountain of food, and making your way up it means bouncing on fried eggs, dodging ice cream cones, and skating on whipped cream.
This being a Kirby game, there are also opportunities to absorb different powers. Here, that's done not by inhaling enemies, but by collecting special types of food. During the race, you can earn speed boosts, high jumps, and other mobility powers. In battle royale, your abilities are a little spicier, letting you stun opponents or push them around the stage.
After each match, you'll unlock cosmetic rewards based on how many strawberries you've collected. Kirby has a closet full of jaunty and improbable hats, from a hamburger to a car. You can also unlock different starting pedestals for the race, modeled after cookies. Additional stages will unlock as you collect more strawberries over your entire Kirby's Dream Buffet career.
How does Kirby's Dream Buffet multiplayer work?
Kirby's Dream Buffet has online and local multiplayer. Like other multiplayer Nintendo Switch games, you'll need a Nintendo Switch Online account to play the game online with up to three others.
Local co-op gives you two different options. You can enter a two-player competition by simply having each player use one of the Switch's Joy-Cons, or play with four players using their own Switch consoles in wireless mode.
Can I preorder Kirby's Dream Buffet?
Yes! You can preorder the game on the Switch eShop and preload it so you'll be ready to play when Kirby's Dream Buffet launches. This is a digital-only title, so there are no fancy preorder bonuses or deluxe editions to consider.
This article was originally published on