Honkai: Star Rail Theory Reveals a Secret Identity Twist Hidden in Plain Sight
Who are you really, Pom-Pom?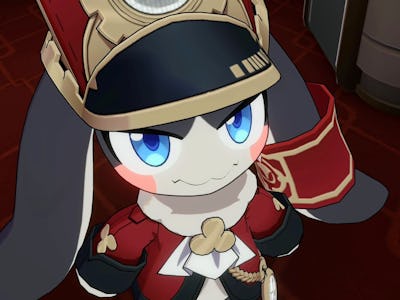 HoYoverse
Aeons are the gods of the Honkai: Star Rail universe. However, not even they are completely immortal. Some of them merge with others, slay each other in battle, or "fall" — like Akivili the Trailblaze. Himeko, the navigator of the Astral Express, tells the protagonist as much when talking about Akivili. However, she expresses doubts about the Trailblaze's true fate.
Redditor TitaniumDragon brought up a theory that could be the answer we're looking for: What if Akivili didn't really "fall"? What if he was actually with us the entire time?
Pom-Pom, the Astral Express conductor, seems like just your ordinary cute mascot character. However, whereas everyone else has a backstory or explanation for how they boarded the Express, Pom-Pom remains a mystery. In fact, we're not even sure what kind of creature he's supposed to be. A rabbit, maybe? TitaniumDragon suggests that Pom-Pom could be Akivili in disguise.
The Astral Express Data Bank, which you can read from Dan Heng's room (the Archives) or from the Data Bank icon on your dashboard, has a few entries about Akivili the Trailblaze and their interactions with mortals. Those entries describe Akivili as a friendly Aeon that enjoyed adventuring with their followers, the Nameless. They used to ride the Astral Express with said followers until their sudden disappearance. The Astral Express is said to run on the deceased Aeon's heart, though Himeko said she never found such a thing on the Express. She theorizes that the Express must have a different way of harnessing the Trailblaze's power, even after their passing.
Still, she says, "But [Akivili's] passing came so suddenly that it was thought they were murdered by another Aeon. I don't believe that to be the case."
The entries never specify what Akivili looked like. Even in Herta's Simulated Universe, where you take on Akivili's form to interact with the other Aeons, you can't see them. Thus, TitaniumDragon suggests they can look like anyone, even Pom-Pom.
Not even Himeko is sure where Pom-Pom came from, yet he is in charge of running the Astral Express. Pom-Pom also seems strangely bound to the train, mentioning that he can't go with the Trailblazer or the rest of the crew outside the Parlor Car. He also gives you rewards for raising your Trailblaze Level, which would make sense as the Aeon of Trailblaze.
Like Akivili, Pom-Pom is always eager to speak with you about your adventures, suggest you bring back souvenirs, and ask you about ways to make the Astral Express more enjoyable.
"We're on a journey around the cosmos with Pom Pom, doing exactly the same thing that Akivili did, and we're never actually told how Akivili perished or disappeared or fell, making it very likely that we are, yet again, in the presence of an angel (or in this case, a god) unknowing," writes TitaniumDragon.
TitaniumDragon might be referring to Genshin Impact's Paimon, who had a similar theory about her secretly being a god. Her color scheme matches the unknown god that the Traveler siblings fought in the prologue, but that theory hasn't gathered much evidence over the past two years. One commenter also pointed out that Kiana, the poster girl for Guns Girl Z and Honkai Impact 3rd, also had some god-like lore surrounding her. Perhaps Pom-Pom is Honkai: Star Rail's iteration of the trope.