GTA 6 Just Got a Sly Release Date Update — and It's Sooner Than You Think
Take-Two has ambitious plans for the next few years.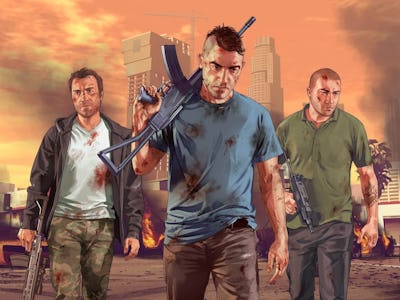 Rockstar Games
Grand Theft Auto VI is arguably the most anticipated game on the horizon, and while Rockstar hasn't revealed its release date, the company recently offered a tease for when to expect it. As part of a Take-Two earnings report, the company announced its projections for the next couple of years including 2024 and 2025. Given Take-Two's massive projections for 2024, it's highly likely that's when GTA 6 will release, as there's not much else that would generate enough revenue to meet the company's goals.
Specifically, Take-Two aims to earn over $8 billion in Net Bookings during fiscal year 2025 (which begins in April 2024). "Looking ahead, Fiscal 2025 is a highly anticipated year for our Company," reads a press release from Take-Two.
"In Fiscal 2025, we expect to enter this new era by launching several groundbreaking titles that we believe will set new standards in our industry and enable us to achieve over $8 billion in Net Bookings and over $1 billion in Adjusted Unrestricted Operating Cash Flow. We expect to sustain this momentum by delivering even higher levels of operating results in Fiscal 2026 and beyond."
As noted by IGN, Take-Two recently reached $5.3 billion in Net Bookings during the last fiscal year, which was a record annual high for the company. It did this thanks to its acquisition of Zynga, which develops a slew of mobile games including Words With Friends, Zynga Poker, and FarmVille, among many others. It's certainly possible for Take-Two to reach its projected goal during Fiscal 2025 without a new GTA game, but it's unlikely unless it releases significantly more games than it usually does.
It makes much more sense that GTA 6 will launch sometime between spring 2024 and spring 2025 to generate enough cash for Take-Two to reach its goal. The $8 billion projection is noticeably more than Take-Two's record high of $5.3 billion, so it would take something major for it to meet its expectations.
Also notable is that Take-Two expects to "maintain momentum" throughout Fiscal 2026, possibly hinting toward a live service element like GTA Online, which would likely continue to generate revenue. GTA Online is famous for generating hundreds of millions of dollars from in-game microtransactions each year, so it stands to reason the next game will also offer a multiplayer component.
Of course, Take-Two didn't specifically mention anything about GTA 6 during its projection. We know next to nothing about the upcoming game, aside from the fact that it does exist. In September 2022, a major GTA 6 leak surfaced with over 90 gameplay videos revealed early. As part of the recent quarterly report, Take-Two revealed that Grand Theft Auto V had surpassed 180 million copies sold, making it the second-bestselling game ever (behind Minecraft, which has sold over 238 million copies).
By the time GTA 6 does release, it will have been over a decade since the last entry. GTA V launched for PS3 and Xbox 360 in September 2013, eventually making its way to PS4, Xbox One, and then PS5, Xbox Series X|S, and PC. GTA 6 will undoubtedly be a huge success for Rockstar and Take-Two whenever it finally hits store shelves.