GTA 6 Leak Reveals Rockstar's Borrowing a Sly Nintendo Strategy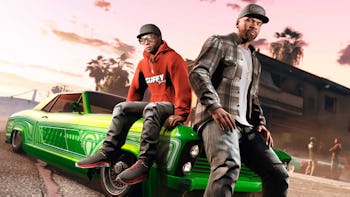 Grand Theft Auto is no stranger to add-on content, but the latest in a long line of leaks suggests Rockstar might be taking a bit of a different approach for the long-awaited sequel — splitting up parts of the game to repackage as DLC.
The rumor comes from established Rockstar leaker Tez2, who says Grand Theft Auto 6 is currently targeting a release in holiday 2024 "which has been pushed back multiple times." Tez2 adds the game may be pushed back again, into to 2025.
Furthermore, Tez2 claims Rockstar is considering breaking up the game's content into post-launch DLC, to ensure the game can meet a release date. If GTA 6 launches in 2024, it will be a whopping 11 years since the last release in the franchise.
This wouldn't be an unprecedented move from Rockstar, considering the approach the studio has taken with GTA Online, incrementally releasing massive updates and new story content. Notably, however, GTA 5 didn't feature any additional story content, just updates to the Online portion of the game.
Taking this approach would let Rockstar more easily hit whatever internal timeline is established for GTA 6, and provide a road map of content to make post-launch more appealing to players. Interestingly, this isn't the first time this kind of rumor has been brought up by Tez2, as last August the leaker reported GTA 6 would "expand over time," adding on new cities after launch.
The easiest approach would be to create content that ties into both the single-player and multiplayer aspects of GTA 6, and creating new cities in-game could do just that. New locations could be fully playable in the online portion, while also adding on hand-crafted stories and missions. This would allow Rockstar to continue the overwhelming success of GTA Online, while story content could help attract new players or those that might not care to engage with multiplayer.
This tactic of splitting up elements of the game as DLC is something Nintendo has been using for years, to great success. Mario Strikers: Battle League, Super Smash Bros. Ultimate, Mario Kart 8, Animal Crossing: New Horizons, and Nintendo Switch Sports, have all seen scheduled add-ons for new content, even years after their initial release. At this point, it's not clear how much of a live-service element there will be for GTA 6, but this Nintendo-like approach would allow Rockstar to retain players who are primarily interested in single-player experiences. 
Nintendo stands apart from other developers, though, in that typically these updates are free or bundled with a Switch Online subscription. It's a smart move, as games like Mario Strikers, which would typically have a very short shelf life, suddenly provide players with more of a reason to stick with it for the long haul. It also allows Nintendo to continue to sell its older, first-party titles with minimal discounts.
There's no video game property in existence bigger than Grand Theft Auto, and a report in 2020 estimated GTA Online made a staggering $600 million in 2019. Even in 2023, it continues to hold an enviable place in the sales charts month after month. The popularity of GTA Online has only continued to increase over the years, and that mainstream success is exactly what's poised to make GTA 6 such a massive success.
Breaking up content into DLC lets Rockstar bring GTA 6 back into the conversation every six months, year, or whatever release timeline suits the studio and the community best. Seeing a big GTA 6 update in a State of Play or other presentation will likely bring thousands of players flocking back to the game, and considering GTA 5 and GTA Online are still alive and kicking a decade later, it's easy to say Rockstar is hoping for lightning to strike twice with GTA 6.