Everything we know about Yelan in Genshin Impact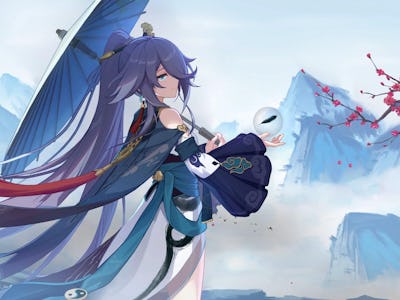 miHoYo
Yelan is finally here. This mysterious Hydro-wielding woman hails from Liyue, specifically the Ministry of Civil Affairs. She leaked months ago before developer HoYoverse could make the official reveal, but is now set to join the Genshin Impact roster in the near future.
Many questions have been answered since the original leak, such as if she has any relationship with Fu Hua from HoYoverse's other game, Honkai Impact. New information from official sources and leaks have also come to light, detailing her role in the game and her abilities. HoYoverse shared her face official reveal and preview the day before the Genshin Impact 2.6 update launched on March 30. She also briefly appears in the new Chasm Delvers questline. As we count our Primogems in anticipation, here's everything we know about Yelan in Genshin Impact.
When will Yelan be added to Genshin Impact?
HoYoverse hasn't confirmed when Yelan will join the game. That said, based on previous leaks, we can make some educated estimates. Most recently, leakers like UBatcha claimed that Yelan would be released in the Version 2.7 update, along with four-star Electro character, Kuki Shinobu. Version 2.7 should come sometime in May 2022 if HoyoVerse sticks to its usual six-week cadence for updates, but the developer hasn't yet confirmed that officially.
What are the Genshin Impact Yelan leaks?
The first Yelan leak happened back in in July 2021, when the dataminer Dimbreath found her name in the game's code. In September 2021, Yelan was identified by UBatcha as a background character in a datamined cutscene. She's wielding a polearm in this scene.
Leaker Project Celestia later predicted that she would be a bow user, which is now widely believed to be the case. As of late March 2022, HoYoverse has only confirmed that Yelan is a Hydro user. Still, it's likely she's a bow user based on her cameo during the Chasm Delvers questline — she shoots a floating crystal with a water-charged arrow.
Since HoyoVerse's official reveal in March, more unofficial info has trickled out about the new five-star. Yelan wanters can see what materials to potentially farm on Honey Hunter and preview her leaked gameplay footage on YouTube or Twitter.
Is Yelan in Genshin Impact related to Fu Hua from Honkai Impact?
Upon Yelan's debut in the leaked video from 2021, players drew comparisons between her and a popular character from Honkai Impact named Fu Hua. It's likely just a coincidence — they ultimately ended up looking completely different.
Fu Hua has wispy long hair, often tied in two strands framing her face, whereas Yelan has a short, angled haircut similar to Xingqiu's. Their outfits also greatly differ. Fu Hua has worn many outfits from modest robes to form-fitting battle suits. Yelan has more of a "sexy spy" vibe, rocking a bodysuit with a plunging neckline and a cropped fur jacket. Currently, it's unknown if Yelan is related to Fu Hua or if she had an early design that more closely resembled her.
What is the Genshin Impact Yelan story?
We have a few hints about how Yelan will fit into the Genshin Impact story, based on her appearance in the latest Archon Quest and the information HoYoverse posted about her.
"Like a phantom, she often appears in various guises at the center of events, and disappears before the storm stops," her description reads. This checks out, considering how she appears to shoot a floating crystal above the Traveler as they confront the Ruin Serpent. However, she disappears before they could confront her. She doesn't speak in the cutscene.
Yelan claims to work for the Ministry of Civil Affairs. It's the same governing body that Muning, the minister in charge of overseeing the Chasm, works for. However, Yelan's identity is so much of a mystery that those around her aren't even sure if that's true.
Yanfei apparently knows her, as she's quoted saying, "I'd like to suggest that you treat her as an ordinary person, but if you do, it's easy to lose control over negotiations." It's heavily hinted that she's difficult to deal with, though the finer details of her personality haven't been revealed.
An older rumor suggested that Yelan was a younger Madame Ping based on a leaked image that showed what seemed to be a Cleansing Bell. Another theorized that Yelan was Cloud Retainer's human form after the previous rumor about it being Shenhe turned out to be false.
This article was originally published on