Everything We Know About Varka in Genshin Impact
Such a legend that we haven't seen him yet.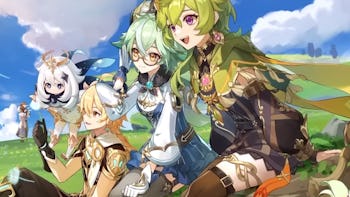 HoYoverse
Varka is one of the most ubiquitous characters in Genshin Impact, often mentioned but never seen. But that might be about to change.
He's a legend in more ways than one. The Grand Master's name first emerged in Genshin Impact's prologue, when the Traveler first comes to Mondstadt to help the Knights of Favonius reign in Stormterror. His name pops up in many story quests and events, especially since he's the leader of one of the biggest armies in Mondstadt and instrumental in the backstories of multiple characters like Razor and Rosaria.
Here's what we know so far about Varka, the Grand Master of the Knights of Favonius.
Who is Varka in Genshin Impact?
Varka is the Grand Master of the Knights of Favonius. The Knights are Mondstadt's main governing force and its law enforcement, so he holds plenty of power in terms of status.
Many of Mondstadt's citizens speak positively of him, but players only personally get a glimpse of Varka through the letters he's sent while out on expedition. He left Mondstadt with about 80 percent of the Knights of Favonius forces for a major expedition about six months before the Traveler's arrival.
He leaves Jean, the Dandelion Knight and a 5-star playable character, in charge while he's away, though the Acting Grand Master doesn't seem to resent him for it.
Will Varka be playable in Genshin Impact?
HoYoverse hasn't explicitly stated whether or not Varka would be playable in Genshin Impact. Fans hope he will, but there's no guarantee.
What does Varka look like?
In March 2023, a major Genshin Impact leak about Varka's appearance started circulating on social media. Team China (via Teyvat Tabloid), one of the major leakers from overseas, shared details about who they believed to be Varka based on their sources.
According to TC, Varka wears Zoroark-colored attire and wolf-themed accessories, which apparently match an older leaked model that the community dubbed the "prisonmaster." He also has a feather that matches Mika's. On the surface, these details make some sense because Varka is also known as the Knight of Boreas, Mondstadt's wolf guardian, and has a connection to Razor. He also works with Mika, who is the Knights of Favonius surveyor that was traveling with him for a while. However, at least two major leakers have voiced their doubts about TC's Varka leak.
Hxg_diluc, who has a history of leaking accurate information, tweeted that the leaked image lacked the Knights of Favonius insignia that many of the Knights have on their clothing. Mero, another prominent leaker, also agreed that they believed that the character model in question was likely from Fontaine, not Mondstadt.
Buff Varka stans hope that means an older, muscular version of the Grand Master will eventually come out, but the chances look slim based on Genshin Impact's current roster of limited body types.
What are Varka's abilities?
Varka's element is unknown. However, many Genshin Impact characters have voiced their opinions about his strength.
Childe talked about how he would love to go head-to-head with the "titan of the Knights of Favonius." Eula sparred with him once but was convinced he held back, even though she gave it her all.
Others also talk about him in awe of his strength, but he's no Capitano.