Genshin Impact Needs to Diversify Its Characters in One Major Way
The community demands DILFs.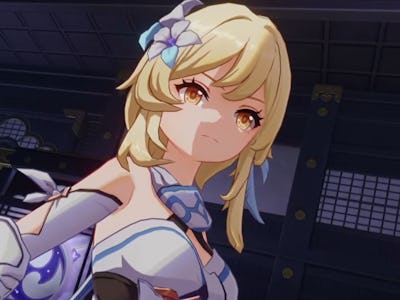 HoYoverse
Genshin Impact has a diversity issue. Fans have rightfully complained about the lack of melanin in the playable cast — like Sumeru controversy, where characters were noticeably paler than their Middle Eastern and South Asian inspirations.
HoYoverse doesn't seem keen on deviating from its formula for character body types either —but maybe it should.
Genshin Impact noticeably only has five body types for its playable characters: child, medium female, medium male, tall female, and tall male. These are just a few examples of each:
Child: Klee, Qiqi, Diona
Medium Female: Amber, Keqing, Xiangling
Medium Male: Bennett, Xingqiu, Xiao (lol)
Tall Female: Jean, Lisa, Ningguang
Tall Male: Kaeya, Zhongli, Childe
The color schemes and outfits differ enough that there isn't an issue differentiating characters from each other, but it wouldn't hurt to throw some different body types in the mix. Itto has a reputation as the number-one himbo in the Genshin Impact community, but he needs more muscle to live up to that title.
It would also be nice to see some older characters in the mix. HoYoverse usually finds a way to explain why all its characters look so young even when they're not, though. For instance:
Qiqi is a zombie
Zhongli is a god
Faruzan was stuck in an anti-aging puzzle
There could be a technical reason for the lack of body types — like having to design new hitboxes that would take time to effectively incorporate into gameplay. YouTuber ON GAME showcases how character models can affect how quickly characters can swim, run, walk, and climb, so it wouldn't be surprising if they affect other gameplay aspects too. (Pro tip: If you want to explore as quickly as possible, you should play as an adult male or female character.)
Genshin Impact does have different body types available for NPCs and enemies, so it's unclear why the developers can't be able to apply those same body types to playable characters.
Some female characters like Brook, a chef from Springvale, have a wider frame than the standard female villager. All the blacksmiths are somehow more jacked than Itto, which is just unfair. Older characters, like Madame Ping noticeably have shorter, hunched bodies than the adult NPCs, too.
More character models would help to diversify the cast and represent more body types, which is important to players who want to see their own body types in the game — or to those who are getting a little bored with the same five models regurgitated in different colors.
I'm not just talking weight, height, or age either. Other games like Overwatch show just how many ways you can make characters differ from one another. Zarya and Junker Queen are both buff ladies that look like they can crack a skull between their thighs, but their body types are completely different!
HoYoverse doesn't have the best track record for including darker skin colors in its games, so it's a slim chance that it would change that to include other body types. For now, we can only hope.
Genshin Impact is available for PC, PlayStation, iOS, and Android.