Everything We Know About Momoka, Genshin Impact's New Catgirl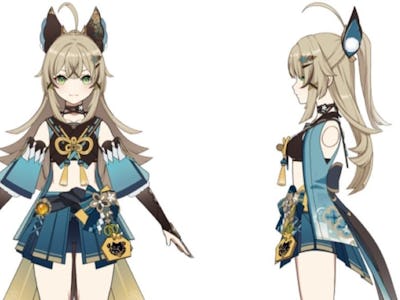 ukrisreng/Reddit
It's been a while since Genshin Impact players have revisited Inazuma. Momoka, the latest leaked character, apparently hails from the Electro-centric country. The cat-eared girl popped up on leakers' radars shortly after the Genshin Impact 3.5 update and ahead of the official version 3.7 beta. At first glance, she appears to be a female version of Inazuma's dogged general, Gorou, but the leaks suggest there's more to her than meets the eye.
Here's what we know so far about Momoka.
When will Momoka come to Genshin Impact?
The earliest Momoka can come to Genshin Impact is around May 24, 2023. That's the estimated date of the Genshin Impact 3.7 update. She might also come in the later half of the update around June 14.
Baizhu and Kaveh, the new featured characters for Genshin Impact 3.6, were already confirmed weeks ago, before the 3.5 update. SaveYourPrimos reports that Momoka will arrive around the 3.7 update, but that isn't for certain. That's just the earliest that she could possibly come at this time. There isn't reliable information about which characters will be running with her, either.
Some leakers thought she was a 5-star at first, but the consensus has changed since then. Genshin leaker Mero claims that Momoka is a 4-star character, so she will likely be available on the standard banner with other 4-stars after her debut.
What are Momoka's abilities in Genshin Impact?
Leakers originally reported that Momoka was a Geo sword character. Some even claimed that she was actually a Geo bow user. Genshin Impact info gurus SaveYourPrimos and Mero have since informed fans that she's actually a Dendro sword character. Her Vision, the little trinket responsible for a character's elemental abilities in Genshin Impact, changed from the last time they viewed her artwork.
Mero further clarifies that she works best as a shielder and that her abilities include "tap and press" versions of a shield. It's unclear if this comes from a previously leaked kit or the current one, though. If it is from the current one, then that means she's a Dendro shielder — a character type that HoYoverse hasn't tried yet. There isn't any leaked gameplay footage yet, so we can't confirm what she looks like in action.
The Genshin Impact 3.7 beta will take place around April 11, the same time as the second half of the 3.5 update. Expect more about her abilities to be available at that time.
What is Momoka's backstory in Genshin Impact?
Leakers haven't revealed much about Momoka's backstory yet. Her name suggests that she's from Inazuma, but there's no indication what role she plays or who she knows. None of the other Inazuma characters have mentioned her in their dialogues. For all we know, she could be a traveling Inazuman character like Kazuha.
Genshin Impact is available on PC, PlayStation 4, PlayStation 5, iOS, and Android. The 3.5 update is expected to end around April 11, 2023.