How to Get the Scholarly Lisa Skin For Free in Genshin Impact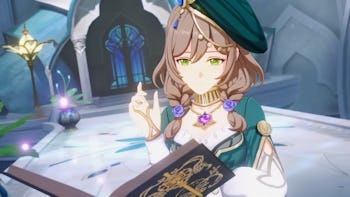 HoYoverse
Did you know Lisa used to be a student in the Sumeru Akademiya? She currently lives in Mondstadt, but she studied abroad in the Nation of Wisdom before she became the Knights of Favonius librarian. Her new outfit "A Sobriquet Under Shade" pays homage to her academic origins. Instead of a witchy purple dress, Lisa's "A Sobriquet Under Shade" outfit dresses her in an emerald green robe with long white puffy sleeves. The outfit also sports a matching green cap and golden jewelry that takes inspiration from Middle Eastern and Southeast Asian aesthetics.
Everyone gets Lisa as one of their free 4-star characters, so more players will have a use for this character outfit more than any of the others that came before. You can even earn it for free during one of the events in Genshin Impact 3.4.
Here's how to get Lisa's "A Sobriquet Under Shade" skin, without spending a dime.
What are the start and end dates for the free Lisa skin?
Lisa's character outfit is a reward for participating in the "Second Blooming" Event, which is already active. The event has different stages that unlock over a couple of days and ends on February 13. In other words, you have until just before Valentine's Day to partake in the event and finish the requirements for to claim Lisa's skin. Your chance to get the outfit ends whenever the event ends.
All the "Second Blooming" Event stages are available as of February 4. Now you can power through them without a wait!
What are the prerequisites for the free Lisa skin?
You can't just join Genshin Impact and expect to finish all the prerequisites for Lisa's skin in one day. Only players who meet these requirements can participate in the "Second Blooming" Event and get the skin for free:
Reach Adventure Rank 20 or higher
Complete Archon Quest Prologue: Act III "The Song of the Dragon and Freedom"
Complete Lisa's Story Quest "Tempus Fugit Chapter: Act I"
Raising your Adventure Rank to at least level 20 and completing these quests takes hours of dedication grinding through Teyvat. The prerequisite quest that unlocks the "Second Blooming" Event takes place in Sumeru, so you also have to pass through Liyue and trek over to the Nation of Wisdom before you can participate.
How to get the free Lisa skin
The "Second Blooming" Event is a combat challenge that involves forming three teams of characters that can survive consecutive battles within a domain. You can earn buffs to push your characters forward and earn points to win prizes — like the "A Sobriquet Under Shade" skin.
Earn at least 10,000 points for each of these stages to unlock Lisa's character outfit for free:
My Name is Violet - Unlocked January 31
Museum of Innocence - Unlocked February 1
One of a Thousand Nights - Unlocked February 2
Cavemen - Unlocked February 3
Street Spirit - Unlocked February 4
After the "Second Blooming" event ends, the only other way to get Lisa's skin will be to pay for it with Genesis Crystals. It will probably cost 1,680 Genesis Crystals based on the prices for other 4-star character skins that have since gone on sale in the Genshin Impact shop.
Genshin Impact is available for PC, PlayStation 4, PlayStation 5, iOS, and Android.