Everything We Know About Genshin Impact Version 3.7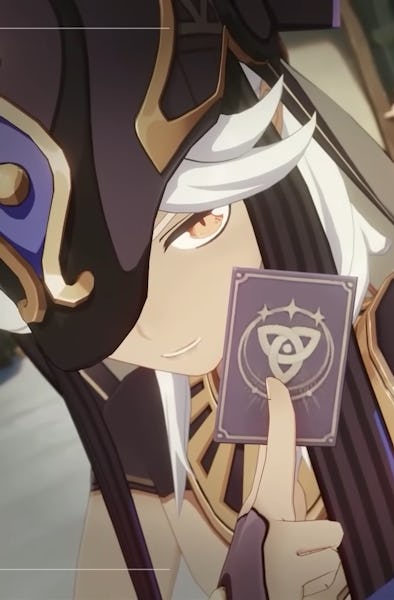 HoYoverse
Genshin Impact's latest main event looks like something out of Yu-Gi-Oh. Characters from all over Teyvat will be participating in an international trading card game tournament.
The Genius Trading Card Game, a mini-game introduced in the Genshin Impact 3.3 update, will be featured in the trading card tour from Mondstadt to Inazuma. Charlotte, a reporter from Fontaine, also comes to report on the event — and perhaps hint at what we might see in the upcoming Hydro nation.
Here's what we know so far about the Genshin Impact version 3.7.
When Is the Genshin Impact 3.7 Release Date?
As per the Genshin Impact 3.7 livestream, the update will launch on May 24 in line with HoYoVerse's typical six-week update schedule. If its anything like past updates, then it will launch the day before between 10 and 11 p.m. Eastern.
What Are the Genshin Impact Version 3.7 Character Banners?
The Genshin Impact 3.7 livestream confirmed the following banners:
Phase 1: Yoimiya and Yae Miko, Kirara (4-star)
Phase 2: Alhaitham and Kazuha
Kirara is a new four-star Dendro character hailing from Inazuma. She's known for being able to deliver any package and works as an international delivery service between the different nations. HoYo hasn't announced the other four-stars.
The four five-stars are all reruns of popular characters. Yoimiya and Yae Miko make sense because one stars in a new story quest and one participates in the TCG event respectively. It's also Alhaitham's first rerun, and Kazuha's first return in a while.
What Are the New Quests in Genshin Impact version 3.7?
There won't be a new Archon Quest in the Genshin Impact 3.7 update. However, Yoimiya will get a second story quest and Kaveh will get his own set of hangout events.
Screenshots from Yoimiya's story quest have already leaked on Reddit. She seems to visit Sumeru with the Traveler, but not much else is obvious from the screenshots.
What Else Is Coming in Genshin Impact 3.7?
Genshin Intel reported multiple events happening in Genshin Impact 3.7, including the TCG-themed main event and new character cards for the game. Charlotte, one of the leaked characters from the major Fontaine leak back in January, appears as a reporter covering the event for the international paper called the Steambird. Characters from other countries have a habit of appearing in the story before the Traveler journeys to their homeland, so maybe Fontaine is the same.
Want more?
Subscribe to Inverse Daily for more stories about games, science, and entertainment that you won't find anywhere else.
This article was originally published on