Fortnite Supply Llama Challenge: How to participate and unlock rewards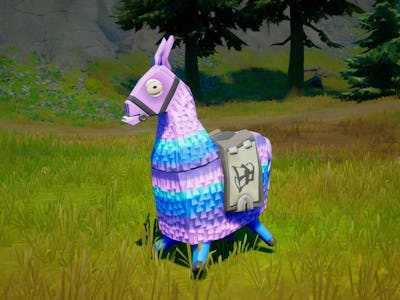 The newest Fortnite challenge event is live and it comes with a heap of llama-themed rewards. The event—titled Supply Llama Challenge—is available for PlayStation users only and grants players access to various PSN cosmetics, as well as in-game goodies. Fortunately, earning the rewards is easy enough, so long as you follow the steps to participate in the event. Here, we'll cover everything you need to know about getting started, such as how to complete objectives, and what sorts of rewards to expect from the Fortnite Supply Llama Challenge.
How to participate in the Fortnite Supply Llama Challenge
To get started with the Fortnite Supply Llama Challenge, you need to visit the PlayStation website. Select "Log In" and the site will redirect you to the PlayStation login screen. After you've successfully logged in using your PlayStation credentials, you'll then need to log into your Epic Account. Now's the time to create one if you don't already have an Epic account.
Once you're in, you'll be greeted with a "Let's Get Started" screen, which shows off all the objectives and rewards for this particular event.
Keep in mind, the Supply Llama Challenge is only available to PlayStation players. Though, it's possible to create a PSN account for free without owning a PlayStation system. It's unclear if you'll still be able to earn the rewards without claiming them on a PlayStation system, but it's worth a try.
The Supply Llama Challenge event began on May 18 and lasts until May 22, 2022, at 11:59 p.m. Eastern. This should be plenty of time to complete each objective and earn all the rewards.
What are the Fortnite Supply Llama Challenge rewards and objectives?
What kinds of rewards await for completing the Supply Llama Challenge? Thankfully, they're all super easy and community-driven, meaning you don't need to solely rely on your own skills to earn rewards.
The Fortnite community needs to collectively survive storm circles to reach each reward tier. Each individual player can contribute up to 25 storm circle survivals per tier, as shown by the Goals and Rewards section of the event page.
These are the goals and rewards for the Fortnite Llama Challenge:
Stage 1
Survive 15 million storm circles
PS4 Dynamic Theme
"A Llotta Llamas" in-game cosmetic loading screen
Stage 2
Survive 30 million storm circles
PSN Avatars
"Fresh Iridescence" in-game cosmetic wrap
Stage 3
Survive 42 million storm circles
PSN Avatars
"Mecha Team Glider" in-game cosmetic glider
For the in-game Fortnite rewards, you'll typically receive them within seven days of reaching a particular tier, while the PlayStation-specific rewards are granted within 30 days.