Fortnite's Next Era Is called Mega — What to Know About Chapter 4 Season 2
A new season of Mega proportions.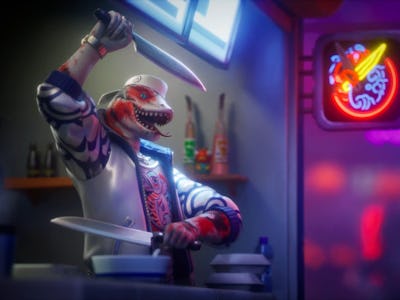 Epic Games
As Fortnite Chapter 4 Season 1 winds down, Epic Games has already teased what's to come for the battle royale. The new season, called Mega, will launch very soon, and while the Fortnite developer hasn't revealed much, there are a few things we know about Chapter 4 Season 2. Based on the rumors and leaks, Season 2 is shaping up to be one of the biggest updates in the game's history, with supposed groundbreaking changes poised to shake things up. Here's what you need to know about Fortnite Chapter 4 Season 2 Mega.
Fortnite Chapter 4 Season 2 Release Date
As revealed via the official Fortnite Twitter account, Chapter 4, Season 2 Mega will launch on Friday, March 10, 2023. Typically, updates go live between 4 a.m. and 7 a.m. Eastern, so be sure to check on the early morning of March 10 to see if the new season is available. Epic Games revealed that Fortnite will undergo downtime on March 10, at 2 a.m. Eastern, but it's unclear for how long.
Is There a Fortnite Chapter 4, Season 2 Live Event?
In the past, many new Fortnite seasons are preceded by some kind of large-scale in-game event. But given how soon this latest season launches, it doesn't seem likely that there will be any significant in-game event leading up to it.
Fortnite Chapter 4, Season 2 Possible Features
While Epic Games has yet to confirm the contents of Season 2, there's a lot in store, according to leaker FutureGameReleases. The site accurately revealed that the new season will be called Mega, and also notes that it will be "Futuristic-Neo Tokyo-Japanese themed." Based on the image shared alongside the season's official announcement, it seems the leak about the new theme is, in fact, true.
Season 2 will apparently include a new version of the Lucky Landing location, along with a Tokyo-themed destination as well. Along with that, we can expect the inclusion of katanas, other new weapons, the return of the Pump Shotgun, and futuristic motorcycles.
Season 2 is rumored to have a slew of new augments, along with a wall-running ability, as well — at least according to Fortnite leaker iFireMonkey.
The most important of these are two supposed mechanics coming alongside Season 2. One is the long-rumored first-person mode that has reportedly been in the works for a long time. The other is a fascinating new "rail grinding" feature that sounds reminiscent of Tony Hawk's Pro Skater or Sunset Overdrive. If true, this will make it much faster to get around the map.
Of course, most of this has yet to be confirmed by Epic Games, but considering Fortnite's history with leaks, it's likely most — if not all — these claims are true. Epic Games will likely reveal more in the coming days.