Here's exactly when you can start playing Square Enix's Forspoken
You might need to clear some room on PC.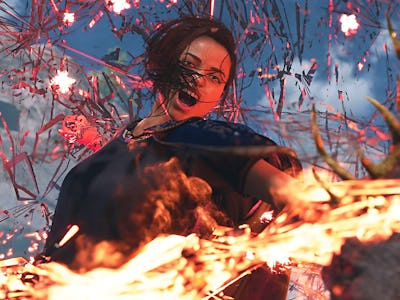 Square Enix
Upcoming Square Enix action RPG, Forspoken, is nearly here and it's gearing up to launch exclusively for PS5 and PC. Previously referred to as codename Project Athia, Forspoken comes to us from Luminous Productions, the team partially responsible for Final Fantasy XV. Forspoken is an open-world action RPG with an emphasis on story and combat, and while reviews have been mixed, it's one that many players are excited about. But when can you play it, and what are the pre-order bonuses? Here's what you need to know to get started with Forspoken as soon as possible.
Forspoken release date and time
Forspoken has different release times depending on region and platform. On PS5, it launches worldwide at midnight local time on January 24, 2023. However, in the United States, it releases at midnight Eastern on the early morning of January 24, meaning you can actually play it at 9 p.m. Pacific on the night of January 23 if you live on the west coast.
On PC, you'll have to wait a little longer. Forspoken has a simultaneous worldwide launch time of 11 a.m. Eastern on the morning of January 24, 2023.
Forspoken file size
You'll need to set aside lots of storage space to make room for Forspoken, regardless of platform. On PS5, it'll be around 87 GB, and you can pre-load it onto your console now.
On PC, however, it clocks in at 150 GB — nearly double that of its PS5 counterpart, so you'll have to remove some files if you're out of room.
Forspoken pre-order bonus
As with many AAA titles, there are different versions of Forspoken, along with various pre-order bonuses. If you pre-order any version on PC, you'll gain access to the following in-game items at no additional charge:
Symbol Combo Necklace
No Limits Cloak
Trigger Happy Nails
Pre-ordering the physical PS5 version from Best Buy gives you access to a steelbook case, while buying early from GameStop comes with the Premium Character Card Set. This includes three art cards only available with the physical PS5 edition.
Pre-ordering the digital PS5 edition includes the following:
Symbol Combo Necklace
No Limits Cloak
Trigger Happy Nails
Crafting Starter Kit
Digital Deluxe (PS5/PC): $94.99
The Digital Deluxe Edition includes the following items, along with the aforementioned digital pre-order bonuses:
Forspoken Full Game Download
Forspoken Mini Artbook (Digital Download)
Forspoken Mini Soundtrack (Digital Download)
Prequel Story DLC 'Forspoken: In Tanta We Trust' (Summer 2023)
Prequel Story DLC Early Access
Forspoken launches exclusively for PS5 and PC on January 24, 2023.