The Top 10 Jackets in Video Games, Ranked
Never leave the house without one.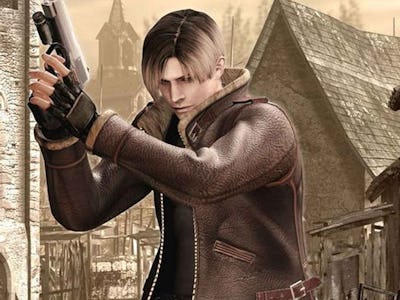 Capcom
Clothes make the man, and jackets make the video game character. Fashion is a fundamental element of video games — just look at Splatoon 3 or any Final Fantasy game designed by Tetsuya Nomura. It takes a lot to make a great outfit, especially since most characters will only be wearing that one set of clothes the entire time.
Whether heroes or villains, in the future or the past, one inescapaable and covet-worthy item is the humble jacket. But these jackets are the crème de la crème, and represent the pinnacle of virtual outerwear. And don't be a stickler — anything from bomber to blazer and trench to trucker falls under the jacket category.
Anyway, here are the 10 best jackets in gaming.
10. Soldier 76 — Overwatch
Starting strong we have the slick biker jacket made battle armor of Solider 76. The multi-toned leather, the turned-up color, and the big red 76 on the back make for an all-around stunner of a jacket.
9. Ryo Hazuki — Shenmue
Leather is always going to be a good material for a jacket (as we will continue to see in this list) thanks to its rugged but classic look and ability to go with just about anything. Ryo's trust leather jacket in the style of WWII aviator jackets seems like the perfect everyday item for running about the down and becoming forklift certified.
8. Killjoy — Valorant
Riot games has always designed fashionable characters, but Valorant took that to the next level. Killjoy is a standout thanks to the oversized puffy bomber she sports in the eye-catching yellow. Small accents like the purple "X"s on the shoulders and the belt hanging down give it an elevated street-style look that Killjoy pairs so perfectly with a beanie and ripped jeans.
7. Sam Porter Bridges — Death Stranding
Style isn't everything, and if you are hiking across the country then you want something that can withstand any weather you encounter. Sam Porter Bridge's sturdy raincoat is a utilitarian piece of clothing designed exactly for that, and it also happens to have a sleek futuristic touch to it that makes it actually good to look at — which isn't strictly necessary when hiding from BTs but it is nice to have.
6. Ringo — Soul Hackers 2
This jacket has it all: functional neon lights, a fur-lined hood, and big poofy sleeves. What else could you want in a jacket? If you looked up cyberpunk in a dictionary it would be a picture of this jacket. It's amazing and Ringo wears it well. Maybe it's not strictly functional in most ways but it will always be number one in my heart.
5. Joel — The Last of Us
Sometimes all you need is a jacket that can take a beating; a jacket that has personality. Joel Miller is not who you would expect to be a fashion icon, but all of his fits are certified bangers. Let's call his style trucker-core. The highlight of his wardrobe is his jackets, specifically the one he wears in The Last of Us Part II. It's a mix of traditional trucker and hunting jackets that you can trust to last through the apocalypse.
4. Goro Majima — Yakuza
Opulence, baby. That is what Goro Majima's signature blazer exudes. It is something so gaudy that it comes back around to being fashionable. Nobody but Majima could pull it off, styled with only his abs underneath, but you have to admit it works.
3. Leon Kennedy — Resident Evil 4
We all knew this was coming. This jacket alone was the reason this article came into existence, as the imminent release of the Resident Evil 4 remake will give us a gorgeous 4K version of Leon's iconic outerwear. It's leather again, but this jacket is fur-lined throughout. We can see the thick layer of fur poking out in the sleeves and collar, which adds a much-appreciated warmth. The only downside of this jacket is that it is sadly a causality of Resident Evil 4. RIP that beautiful jacket.
2. Kim Kitsuragi — Disco Elysium
The perfection of Kim Kitsuragi's jacket is subtle. It doesn't have the overt fashion of Ringo's or the extreme utility of Sam Porter Bridge's, yet it holds its own in the details. The deceptively light jacket is an Aerostatic Pilot Jacket that can keep Kitsuragi warm in the harsh windy coastal city of Revachol. Like real-life pilot jackets, Kitsuragi's is stitched to perfection and insulates him. The oversized look is also such a fashionable cut, which combined with the dark orange makes it simply stunning. Even developer ZA/UM knew they had something great, they made it into a real jacket!
1. Red leather jacket — Miscellaneous
One type of jacket permeates video game fashion above all else — the red leather jacket. Be it Dante from Devil May Cry, Claire Redfield from Resident Evil 2, or Aerith Gainsborough from Final Fantasy 7, the red leather jacket keeps popping up in slightly different variations. Aerith's short-sleeved number with buckles feels cute yet reliable, while the longer cut of Dante's feels like the perfect piece to show off. Travis Touchdown from No More Heroes even has a name for his red leather jacket: Red Hot. It's ubiquitous but adaptable and is the best jacket in video games.