Alone in the Dark Channels Resident Evil 2's Most Inventive Gimmick
Two heads are better than one.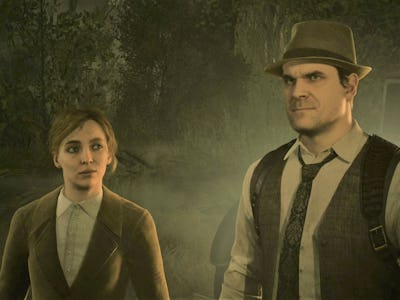 It's been an incredible time to be a horror game fan, thanks to recent releases like Dead Space, Resident Evil 4, and The Last of Us Part I. That trend will continue later this year with the launch of Alone in the Dark, a reimagining of the 1992 original.
While this installment will certainly pull from the first game in the series, it's also clearly influened by other beloved horror games — particularly Resident Evil 2. Alone in the Dark will feature two campaigns with two playable characters, along with claustrophobic, over-the-shoulder third-person survival gameplay.
The 2023 version of Alone in the Dark is built around the same framework as the original. Jeremy Hartwood, a renowned artist, is haunted by an entity known as the Dark Man. He seeks refuge at the Derceto, a countryside hospital and requests help from his niece, Emily, who hires a private investigator, Detective Edward Carnby, to uncover the game's mysteries.
Alone in the Dark will again star Edward Carnby and Emily Hartwood, this time played by David Harbour and Jodie Comer. Each character has their own story that intersects with the other, with exclusive content to incentivize you to play twice. Your choices in one campaign will impact the other.
"If you go for a second playthrough with the other character, there will be slight influences in your game depending on which items you found in your first playthrough," a THQ Nordic spokesperson says. "The idea is that you feel like the protagonist of your story with the character you choose, while your companion also has their own investigation going on."
"People will react differently to you, depending on who you play," Game Director and Writer Mikael Hedberg adds.
As shown in the recent gameplay footage, both characters weild firearms and melee weapons to battle enemies. In Capcom's game, Leon Kennedy and Claire Redfield play similarly, but have access to a handful of different items and weapons. It's unclear how each character will differ here from a mechanical standpoint.
"Our combat is intense and tough, and you'll need to use every bullet you can find," Hedberg says, so it seems like it will stick with the modern formula that has worked so well with other survival-horror games.
Alone in the Dark launches for PS5, Xbox Series X|S, and PC on October 25, 2023.