Spider-Man 4 Hits a Major Delay — For a Good Reason
Spidey has the good sense to not cross the picket line.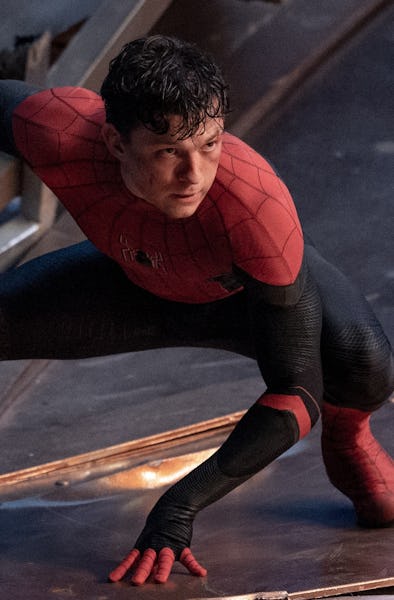 Marvel Studios
Spider-Man does whatever a spider can, but even he won't cross the picket line.
One day after producer Amy Pascal confirmed intentions to pursue a fourth Spider-Man movie starring Tom Holland, Holland said "meetings" were taking place but are now on pause due to the ongoing Writer's Guild of America strike.
When approached by Variety at the New York premiere of his new Apple TV+ series The Crowded Room, Holland said he "can't talk" too much about the next Spider-Man movie, except that there are plans to make one.
"I can say that we have been having meetings. We've put the meetings on pause in solidarity with the writers," Holland said. "There's been multiple conversations had, but at this point it's very, very early stages."
In other words, Spider-Man says, "Solidarity!"
As we pointed out yesterday, no single Spider-Man era has produced a fourth consecutive movie. Tobey Maguire and Andrew Garfield only starred in three and two movies, respectively, as the heroic web-slinger.
The Maguire era very nearly produced a fourth movie, with scripts written and storyboards drawn up. But with director Sam Raimi unsatisfied with the drafts and feeling unable to make the studio's May 2011 release date, the filmmaker left the movie in January 2010 and compelled Sony to reboot the whole franchise with 2012's The Amazing Spider-Man.
Considering the popularity, power, and budget of the Marvel Cinematic Universe, a historic fourth installment for Tom Holland's Spider-Man is all but inevitable. The biggest factor now is how soon the writer's strike — and soon, maybe even an actor's strike — will resolve so work can begin.
As for what story a fourth movie could tell, Spider-Man: No Way Home ended with all memory of Peter Parker erased from public memory. Peter is back to being an anonymous superhero, but at the cost of his relationships with friends and family. That's a similar premise to Spider-Man: Brand New Day, a period of Spider-Man comics that sees Peter live in an altered reality that erases some of his scandals — like his public unmasking in Civil War — at the cost of Peter's relationship to his true love, Mary Jane Watson.
If Spider-Man 4 does happen, it may be a brand new day for the Marvel Cinematic Universe.