Leaked The Flash Images May Reveal One of Batman's Most Dangerous Villains
A deadly antagonist is racing toward their movie debut.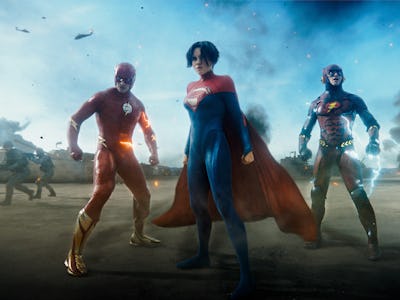 Warner Bros. Pictures
The Flash is the buzziest movie of the summer, and only for some of the reasons DC intended. But the already crowded movie is possibly squeezing in one more villain, and this one hails from the depths of the multiverse.
On May 10, Twitter user @thesebbazz shared high-resolution images from The Flash. These leaked images, which aren't yet available on Warner's press site, include Michael Keaton's Batman costume spray-painted with The Flash's lightning bolt over the bat symbol on his chest.
Without context, it's hard to guess why Ezra Miller's Barry Allen would paint a lightning bolt on a Batsuit, but readers of DC know what it means to "fuse" Batman and The Flash together. An added twist is that Warner Bros. just launched its tie-in merchandise, which includes a similar graphic — the Bat symbol painted with a red lightning bolt — slapped on t-shirts, coffee mugs, and sherpa blankets. So is The Flash secretly teasing Red Death?
Who is Red Death?
The Red Death is a villain from DC's Dark Knights: Metal, published in 2017 and primarily written by Scott Snyder. It saw the arrival of the Dark Knights, an alliance of evil versions of Batman from across the multiverse.
The Red Death is a "fusion" of Batman and The Flash. On Earth-52, a paranoid Bruce Wayne hunts down his friend, The Flash, to steal his Speed Force powers. He combines their bodies and consciousnesses, allowing Bruce to take over The Flash's body and wield his powers to become Red Death. His origin story was revealed in a one-shot comic, Batman: The Red Death.
A different version of Red Death appeared in live-action earlier this year, in the final season of The Flash on The CW. Batwoman star Javicia Leslie played an evil version of her DC superhero, who became Red Death.
Is Red Death in The Flash?
It's unlikely The Flash is teasing a major story like Dark Knights. The movie is already taking elements from other comics, like the crossovers Flashpoint and The Button, where Batman and The Flash investigate a case involving the multiverse.
With Michael Shannon back as Zod and Dark Flash confirmed via the movie's toy line, another villain could make The Flash unwieldy and confusing for general audiences. But then why the shirts and mugs? There may be another explanation for why the two heroes' iconic logos are fused, but it's still irresistible to think of an exciting villain like Red Death coming from the outer rims of the multiverse. Maybe The Flash is the beginning of a DCU that could see a proper live-action Dark Knights.