The Flash Director Confirms a Mind-Blowing Celebrity Cameo
A national treasure joins the team.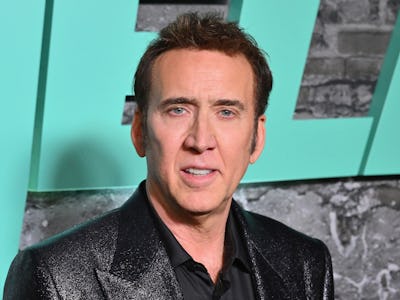 ANGELA WEISS/AFP/Getty Images
Look, up in the sky! It's Nicolas Cage!
In what is the most baffling pre-release reveal about The Flash yet, director Andy Muschietti told Esquire Middle East that actor Nicolas Cage cameos in the new DC movie as Superman.
"Nic was absolutely wonderful," Muschietti told the outlet. "Although the role was a cameo, he dove into it." He added that he's "dreamt all my life to work with him."
"I hope I can work with him again soon," Muschietti said.
Cage's cameo in The Flash is meaningful when you know the history behind it. In the late 1990s, Cage was set to play the Man of Steel in a movie directed by Tim Burton and written by Kevin Smith, which would have adapted the 1992 comic book story The Death of Superman.
Cage is a massive Superman fan, having named his son Kal-El (Superman's Kryptonian birth name) and bought a copy of Action Comics #1; he sold it for $2.1 million in 2011.
In 2015, the troubled pre-production and later demise of Cage's Superman was chronicled in the documentary The Death of Superman Lives: What Happened? directed by the late Jon Schnepp. In 2018, Cage finally played Superman in the 2018 animated film Teen Titans Go! to the Movies.
For years, Superman Lives lived in infamy in the minds of comic book fans, largely due to Cage's involvement. Much of its reputation was fuelled by the circulation of an unflattering Polaroid of Cage looking sleepy in one of several costumes tested for the movie. (The documentary details how Superman's costume would use practical effects, which required numerous tests and fittings.) It's impossible to know whether Superman Lives would have been any good, but given Cage's filmography and acting style, it certainly would have been memorable.
The Flash finally puts Cage in the DCU canon, although the full details are unknown to anyone who hasn't already seen it at screenings like CinemaCon. With The Flash primed to reboot the DCU as part of its transfer of power to James Gunn, it's unlikely Cage will play Superman in a full movie. Still, his glimpse in The Flash means that even if Superman Lives doesn't exist in this universe, it's out there somewhere in the multiverse.