Teen Wolf: The Movie is fan service done right
Teen Wolf: The Movie offers both substance and fan service, signaling an exciting potential return for the iconic supernatural YA franchise.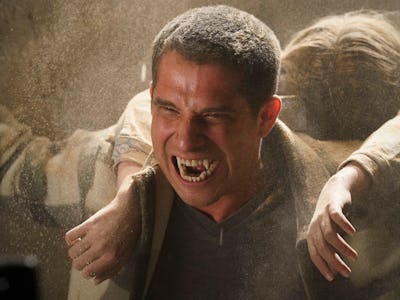 Everything comes back around full circle, but some of these trends are more welcome than others. Low-rise jeans and thin eyebrows? Not welcome.
But how about the return of zombies, werewolves, and vampires to the big (and small) screen? After the bite-sized hole left in the wake of The Vampire Diaries (and spinoffs) and The Walking Dead (and spinoffs), it seemed like all hope was lost for creature feature shows that serve more drama than jump scares. But with 2023 heralding the next wave of the zombie/werewolf/vampire craze in film and television, it's time for the return of one of the most beloved YA supernatural shows — this time, as a full-fledged feature film. Scott and co. are back in Paramount+'s Teen Wolf: The Movie, and better than ever.
Teen Wolf, the show, premiered on June 5, 2011 on MTV and concluded on Sept. 24, 2017, starred Tyler Posey as the teen werewolf in question. Its finale ended in a way that could have either signaled a natural conclusion, or a franchise comeback: the fight would go on ... or would it?
Teen Wolf: The Movie brings back show developer and executive producer Jeff Davis as the script writer and key episode director Russell Mulcahy to answer that question. In Teen Wolf: The Movie, a full moon rises in Beacon Hills and with it, a terrifying (but recognizable to the show's watchers) evil reemerges. Only a werewolf like Scott McCall (Posey), who is no longer a teen wolf but is still the Alpha, can reunite his trusted friends and gather new allies to fight back against what could be the deadliest enemy they've ever faced. The wolves are howling once again, 15 years after Season 6's finale — as are the banshees, werecoyotes, hellhounds, and kitsunes of the Teen Wolf universe. Allison Argent (Crystal Reed) has also, somehow, been resurrected even though we all watched her die in her soulmate's arms mid-show. And the Nogitsune of Season 3? That dangerous trickster is back, too.
Teen Wolf: The Movie's greatest strength is that it does more than serve as a smooth continuation of the show's story — despite the narrative's huge, 15-year time jump — or provide fans another opportunity to see their Teen Wolf faves on-screen again. Though Dylan O'Brien's fan-favorite Stiles Stilinski and Arden Cho's Kira Yukimura are sorely missed, the movie works because audiences aren't given much time to mull over their absences. Hoechlin's Derek Hale is a full-fledged father to a burgeoning teen werewolf (Eli Hale, played by franchise newcomer Vince Mattis); Posey's Scott McCall is stuck in time, doing the same-old-same-old veterinary work while also pining for his turn at becoming a husband and a father; Holland Roden's Lydia Martin is trying to keep her banshee powers at bay while girlbossing her way to the tippy-top of some vague coastal finance company; and Shelley Hennig's Malia Tate is dealing with commitment issues while getting routinely hot and heavy with a familiar franchise face.
Teen Wolf: The Movie has style and substance, too. It is evident that this film, thankfully, is the combined budget of what would have been an entire seventh season of Teen Wolf. The CGI is crisp, which means no more clunky, animatronic-esque werewolves prowling the woods! This time around, even Scott's red glowing eyes and feral growing claws look pretty legit.
The stunt choreography is electrifying, and sometimes even bone-crunching and borderline scary with the werewolves. The human characters get some spry and skillful action scenes as well, particularly Crystal Reed, who gets into a memorable fight sequence upon rising from the dead 15 years after the fact.
Even though the aesthetic is still reminiscent of the show — so darkly filtered in navies and grays that you can barely see what's happening on-screen in the nighttime, blatantly juxtaposed with the harsh fluorescent indoor lighting of a studio stage — it's got the feature-film perks of being in higher definition.
Plus, Teen Wolf: The Movie makes it apparent that the franchise can appeal to adults now, too. Freed from the shackles of cable, Teen Wolf: The Movie has bare butts, f-bombs, and more blood than when the series lived on MTV. Essentially, Teen Wolf: The Movie grew with its audience, but didn't forget the nostalgia, which is why the movie mostly works when other remakes don't — there's a clear-cut continuation of the beloved show here, slightly modified to fit a streaming film format but still capable of hitting all the beats that made the franchise a YA sensation.
Teen Wolf: The Movie is more energetic reinvention, less tired reboot— it doesn't just add something new to its long-running plot, it also provides Teen Wolf the stamina it needed to keep going without letting the story get stale. Even though it initially goes off the rails with Allison's resurrection as the plot's motivating force, it soon becomes apparent that there's more to this movie than solely providing some closure to fans who were desperate to see Scott happy with his soulmate. The titular torch is unexpectedly passed in Teen Wolf: The Movie, and it's clear that the beloved supernatural franchise is in good hands with another teen wolf and their capable adult monster mentors — whether that's in a new spinoff show, or movie sequels.
But with this change of the guard comes the bittersweet realization that not everyone from the OG pack will return to Teen Wolf. However, given by the film's ending, it seems like the story will go on.
Teen Wolf: The Movie is now streaming on Paramount+.