Superman: Legacy Leak Reveals DC's Refreshing New Direction
Next to All-Star Superman, James Gunn is clearly finding inspiration in the most influential superhero movie of all time.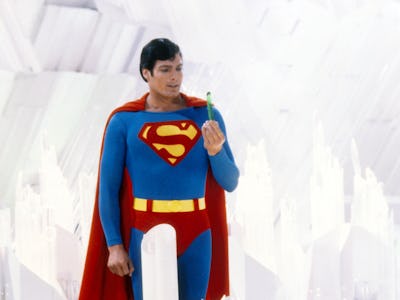 Silver Screen Collection/Moviepix/Getty Images
DC fans are still in the dark over what James Gunn is cooking with his Superman movie reboot, Superman: Legacy. But new casting rumors are revealing possible inspirations Gunn is mining for the Man of Steel. (And it's probably not Man of Steel.)
Over the Mother's Day weekend, The Hollywood Reporter and Deadline published reports about DC Studios' ongoing casting process for Superman: Legacy, naming the top actors in the running for the parts of Superman/Clark Kent, Lois Lane, and nemesis Lex Luthor.
Both outlets named David Corenswet (X), Jacob Elordi (Euphoria), and Andrew Richardson (To Call a Spy) as candidates for Superman, and Emma Mackey (Sex Education), Rachel Brosnahan (The Marvelous Mrs. Maisel), Phoebe Dynevor (Bridgerton), and Samara Weaving (Ready or Not) as possible actresses to play spunky newspaper reporter Lois Lane.
In a case of contradicting reports, The Hollywood Reporter named Nicholas Hoult as a candidate for Lex Luthor, but Deadline reporter Justin Kroll tweeted Hoult is in the running for Superman.
Regardless of who is chosen from the pool, all the candidates speak to both a comparatively youthful vigor for the franchise and a throwback vibe to Richard Donner's 1978 film Superman, a movie so prominent that Kevin Feige admits that Marvel reviews it before making a new movie.
As Donner's movie laid out in Superman stories after it, Superman/Clark Kent should be played by an actor who can play both the facade of Clark Kent — that of a bumbling midwesterner in a bodybuilder's build — and the real identity of Superman. Actor Christopher Reeve memorably played the part with such skill that all who've played Superman since are often compared to his performance. That's a legacy that Hoult or Corenswet will have to fulfill in playing up that duality. Thankfully, their past work reveal a range that is necessary for the job, which has strangely not been a primary focus for Superman on the big screen in a long time. Hoult, with his roles in the X-Men films and Hulu's The Great, for example, seems like he'd be attuned to the Clark Kent side of the role. Henry Cavill, for all intents and purposes, was more or less the same character with or without eyeglasses: the heroic and noble Kal-El.
Similarly, Margot Kidder imprinted on Lois Lane the character type of a fast-talking city gal with second-wave feminist politics. Her role is also critical to grounding the impossibly pure goodness of Superman into a believable, cynical reality. This is not to take away from Amy Adams, an accomplished movie star with multiple Oscar nominations, but her Lois simply had a different, subdued energy than Kidder. Actresses like Mackey, Brosnahan, and Weaving, have all proved in projects like Sex Education, Marvelous Mrs. Maisel, and Ready or Not that they can engage in the wittiest repartee along the lines of Kidder's "Girl Friday" version of Lois.
With DC placing its hopes on Superman: Legacy to modernize Superman and revive the DC Universe, it's more important for writer/director James Gunn to nail the dynamics of Superman and Lois than to faithfully adapt any specific comic storyline. (Although its allusions to All-Star Superman isn't a bad thing, either.) If Lois Lane can convincingly fall in love with Superman and Clark Kent, so too will audiences in 2025.