When Is the Stranger Things Season 5 Release Date? David Harbour Just Shared a Huge Update
We may finally know when the Netflix show's final season will debut.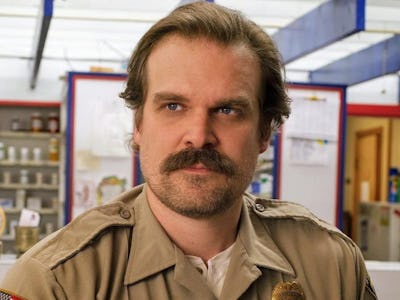 Netflix
For Stranger Things fans, one question towers above all the other mysteries: When is the Season 5 release date? Netflix has already confirmed Stranger Things Season 5 will mark the end of the series, though spinoffs are already in the works, so anticipation is high for the sci-fi megahit's final episodes. Now, we finally have an update, and it's a big one.
Speaking at the Middle East Film & Comic Con in Abu Dhabi, Stranger Things star David Harbour dropped a pretty huge clue as to the Stranger Things Season 5 release date. Here's the full quote (via Collider):
"We're walking into Season 5. I've got a couple more months to train. We start shooting that in June, though, and that will be the final season. I did a lot of training for season four. He [Hopper] was in a very specific position, that prison. It was about making him a different guy and sort of shedding a layer of himself physically, mentally, and emotionally. But now he's back in town, he's back in America where they have cheeseburgers, so he will be well-fed."
Most of this doesn't come as a surprise if you're caught up on Stranger Things Season 4, but the fact that filming will officially begin in June is a pretty big deal. Using that information we can estimate the Season 5 release date by comparing it to previous seasons.
Here's some basic data:
Stranger Things Season 4 started filming in February 2020 and premiered on May 27, 2022. That's 16 months from shooting to the release date — though a certain event in March 2020 probably pushed the entire thing back.
Looking even further back, Stranger Things Season 3 started filming on April 23, 2018 and was released about 14 months later on July 4, 2019.
14 months seems like a reasonable wait, so let's go with that. If Stranger Things Season 5 starts filming five weeks from now, that would be mid-April 2023. So by our own math, the release date should be in June 2024.
Of course, there are other factors to consider. Netflix seemingly likes releasing Stranger Things over major holidays, so Season 5 might arrive on July 4, 2024. It's also possible that production could get slowed down again for some unexpected reason, in which case we might not get new episodes until the fall of next year. Maybe Stranger Things Season 5 will arrive on Labor Day.
But whatever the release date turns out to be, the end of the series is definitely in sight.