Spider-Man: Across the Spider-Verse's Wildest Cameo Matters More Than You Think
A shocking moment in Across the Spider-Verse blurs the lines between art and inspiration.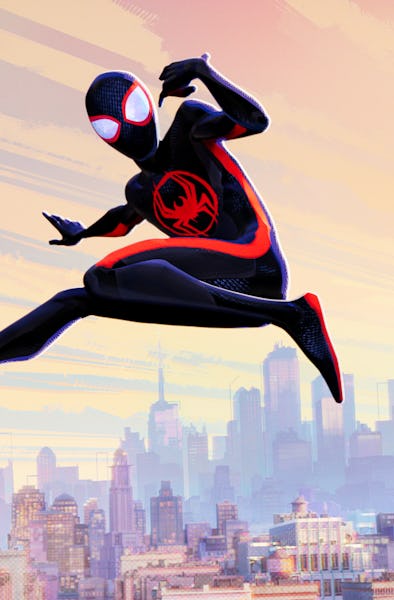 Sony Pictgures
"Who doesn't want to be Spider-Man?" In his 2011 stand-up special, Weirdo, actor-rapper-comedian Donald Glover recounted the time he broke the internet because of Spider-Man. A year earlier, the Community star had unsuccessfully thrown his name into the mix when Sony first tried to reboot the Marvel franchise. (The role later went to Andrew Garfield.) With a microphone in hand, Glover hilariously detailed how the mere suggestion of him being Spider-Man set Twitter ablaze. "That's when the world went crazy," Glover joked.
Unbeknownst to even Glover, his actions would have a lasting ripple effect that persists to this day. Now, with the release of Spider-Man: Across the Spider-Verse, a single moment in the film brings things full circle, allowing the movie's lead protagonist Miles Morales (voiced by Shameik Moore) to finally meet his real-life inspiration.
Warning: Major spoilers for Spider-Man: Across the Spider-Verse ahead.
Why is Donald Glover in Spider-Man: Across the Spider-Verse?
Halfway through Spider-Man: Across the Spider-Verse, Miles Morales meets an "Aaron" who is almost like his uncle, except not really. Welcome to the multiverse, friends.
In a surprise cameo, Glover appears in his Marvel Cinematic Universe role of Aaron Davis, a low-level criminal he played in 2017's Spider-Man: Homecoming. In the comics, Aaron is the uncle of Miles who suits up as the armored villain Prowler before turning over a new leaf. (In the first Spider-Verse movie, Aaron is murdered by Kingpin.)
Meanwhile, in Homecoming, Glover's Aaron makes a passing reference to "a nephew," adding he doesn't want unchecked alien tech in his neighborhood. It was an Easter egg that set fan speculation on fire.
Now, in Across the Spider-Verse, it appears that Glover's Aaron has taken to using some of that tech as the Prowler. "It's rude to stare," he tells Miles, who is bewildered to see a variant of his own beloved uncle.
So, to summarize, Spider-Man: Across the Spider-Verse seems to finally confirm a long-standing fan theory that the character played by Donald Glover in Homecoming was Miles Morales' uncle. But hold on to your web-shooters because we're not finished yet.
How Donald Glover Inspired Miles Morales
When word of a Spider-Man reboot became public over a decade ago, Glover casually tried to get himself cast. As Glover explains in Weirdo, he unwittingly found himself disrupting the peace at Comic-Con. The mere possibility of the historically white Peter Parker being played by a Black actor was enough to ignite a frenzy.
For his part, Glover largely ignored the controversy he generated — except once. In the Season 2 premiere of Community, Glover appeared in character wearing Spider-Man pajamas. It just so happened that one key person was watching: Ultimate Spider-Man writer Brian Michael Bendis.
As the author of a major Spider-Man comic, Bendis was inspired to see a new hero take up the mantle of Spider-Man in a parallel universe where Peter Parker was dead. Working with Italian artist Sara Pichelli, the two came up with Miles Morales and introduced him in the fourth issue of the Marvel miniseries Ultimate Fallout before making him the star of Ultimate Spider-Man.
In a 2011 interview with USA Today, Bendis confirmed that seeing Donald Glover wear Spidey PJs on Community led him and Pichelli to create Miles Morales.
"He looked fantastic!" Bendis said. "I saw him in the costume and thought, 'I would like to read that book.'"
Since his debut, Miles Morales has lived up to the legacy of Peter Parker as a messy New York superhero whose mission to always do the right thing doesn't always land him in the right place. His popularity has made Miles leap beyond comics to appear in cartoons, video games, the Oscar-winning Spider-Man: Into the Spider-Verse, and now its sequel.
Spider-Man; Across the Spider-Verse is now playing in theaters.