Sophie Thatcher and Pedro Pascal Had Plans to Reunite in Sequel to Cult Sci-Fi Hit
The underrated sci-fi movie starring Thatcher and Pedro Pascal almost got a TV spinoff. Could it still happen?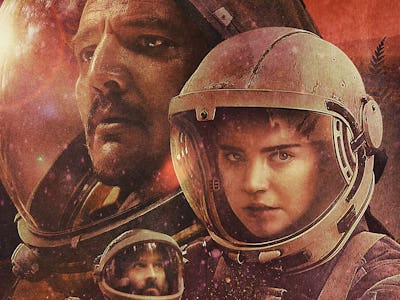 Depth of Field
In 2018, a little-known science fiction movie quietly passed through the box office, but it would help launch two of the most exciting actors in Hollywood today: Sophie Thatcher (best known for Yellowjackets, The Book of Boba Fett, and upcoming horror movie The Boogeyman) and Pedro Pascal (best known for, well, take your pick). That movie, Prospect, has gone on to become a minor cult classic that found a new life on streaming, but according to Thatcher, we almost got a sequel to the sci-fi epic she made with the Mandalorian himself.
"I remember before Covid, the writers and the directors were talking to me about maybe writing a TV show about it, and using Cee when she's older," Thatcher tells Inverse in an interview promoting her new movie, The Boogeyman, based on the short story by Stephen King. "And I was like, Yeah. I love all of them so much I would be so down for that."
For the uninitiated, Prospect is a gritty sci-fi thriller about desperate people mining gems on a poisonous alien moon. Filmed primarily on private land next to Olympic National Park in Washington, the movie tells the story of a handful of desperate people who travel to a poisonous moon to mine gems. Sophie Thatcher plays Cee, who travels with her father Damon (Jay Duplass). They soon encounter two more prospectors: Ezra (Pedro Pascal) and his non-speaking friend. Spoiler alert: it doesn't go well for anyone involved.
By the end of Prospect, Damon is dead. Cee and Ezra go from enemies to uneasy allies and manage to escape the moon, though Pascal's character is seriously wounded in the process. The ambiguous ending leaves the door open for a sequel, and apparently, that's what writer-director duo Zeek Earl and Chris Caldwell had planned.
Of course, a lot has changed since 2018. But Thatcher still isn't ruling out a Prospect sequel.
"I haven't really heard anything," she admits. "I think they're doing a lot of other projects. But they're such a talented crew that I would work again with them in a second. Maybe one day."
Regardless of whether we ever get a follow-up show (or movie), Prospect remains an impressive achievement. Produced for under $4 million, it achieves a level of sci-fi worldbuilding that most big-budget blockbusters can't match. And as a bonus, it gave us two amazing actors who continue to do great science fiction and horror work today.
Here's Thatcher one more time reflecting on the experience:
That was like honestly the best first experience I ever could have had and set the bar really high for me. And I just want to do more movies that feel like passion projects and everybody on that set, because it was a smaller budget, maybe people weren't getting paid enough, but everybody was still very adamant on making a good movie and knowing this movie was special. We had that feeling the entire time. And just leaving that set I was like, Oh, every movie's gone be like this. And that's just not true. So I would love to keep working on projects like that. And Pedro's just so talented and he's so well trained too that I hadn't really seen actors like that where he could just snap out of it like that and just make a joke after doing the heaviest scene where he was shot. I learned a lot from just watching him.
And, in case you're wondering, Thatcher also confirmed that Pedro Pascal is a very "nice" person.
Prospect isn't streaming anywhere right now, but you can rent it on Amazon Prime.
The Boogeyman creeps into theaters on May 24. Stay tuned for the rest of our interview with Thatcher and director Rob Savage soon.