Mia Goth's Blade Casting Suggests an Epic Villain Will Join the MCU
The Lord of Vampires could be the Big Bad.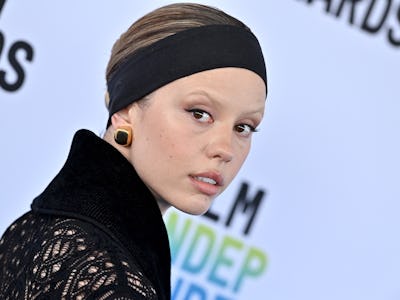 Axelle/Bauer-Griffin/FilmMagic/Getty Images
When Mia Goth joined the cast of Marvel's Blade, it felt like a no-brainer. Goth has become a stealth icon of indie horror, so whatever her role in Marvel's Cinematic Universe, it points to what fans have been praying for: a superhero flick that also feels like a proper horror.
The MCU has been flirting with horror for some time. The Doctor Strange films are the closest the franchise has come to it, but Marvel's infatuation with creative control has caused more than a few snags. Though Doctor Strange in the Multiverse of Madness pushed the MCU to its limits, its horror came in fits and starts. Blade, however, could finally drag Marvel into a new genre. It shouldn't fall only to Goth to deliver the scares we've been waiting for, but her casting certainly doesn't hurt.
Goth joins Mahershala Ali, Delroy Lindo, and Aaron Pierre in the upcoming film. Her role remains a mystery, and it will likely stay that way for a while. But Marvel fans have thrown a handful of names into the conversation, and one could hint at the arrival of the world's most famous vampire: Dracula.
A handful of rumors have suggested that Goth will be playing a character called Lilith. In Marvel Comics, Blade has been connected to two Liliths. There's Lilith Drake, daughter of Dracula, and Lilith, the Mother of Demons. The latter is a major villain in the Blade comics, one of the first the hunter encounters on his solo adventures. Hers is a character that Goth could easily make a meal of, but given Dracula's rumored role as the main villain of Blade — and a recent report from Above the Line's Jeff Sneider — Goth has likely been cast as Lilith Drake.
Lilith has quite the beef with Dracula; as an infant, he abandoned her and her mother. When she was later turned into a vampire, she dedicated her life to destroying him. Crucially, she can't complete that task alone. Though she can attack Dracula, she's psychologically incapable of killing him, which forces her to team up with other hunters. Enter Blade.
Dracula is the biggest of Big Bads in Blade's world. The vamp was responsible for the death of Blade's mentor, Jamal Afari, and avenging him is one of Blade's overarching crusades, so there's definitely a precedent for the character to appear.
Though Marvel has yet to confirm anyone's role in Blade (other than Ali as the title hero), it would make sense to introduce Dracula, especially if it's through his daughter. Whether Goth's character will serve as an ally or foe to Blade, let's hope her inclusion is a sign that we'll get a properly scary MCU film.