A Marvel-DC Crossover Movie Could Happen Sooner Than You Think — The Answer is In Comics
Spider-Man and Superman's historic confrontation in comics could be Marvel and DC's first crossover movie.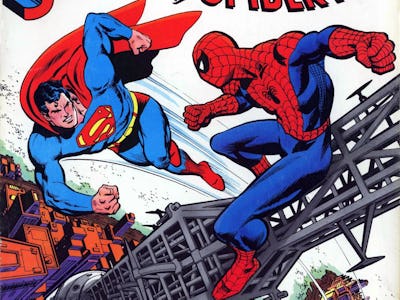 Marvel Comics/DC Comics
James Gunn, the former Marvel Studios filmmaker turned co-chair of DC Studios, doesn't think a crossover movie with Marvel and DC will happen soon. But it still may happen sooner than you think — and comics history shows the plausible way in.
At the premiere of Marvel's Guardians of the Galaxy Vol. 3, Deadline interviewed Gunn, who demurred on a crossover in the next few years. "It would look like something that would happen in about 10 years," Gunn said, laughing off the idea. "Not today. Because we have a whole bunch of other DC movies we need to tell. But yeah, I think it would be cool."
It would be cool. And it so happens that Gunn is at work (albeit not literally at the moment, due to the WGA strike) on a Superman reboot. Titled Superman: Legacy, the project is designed to re-launch the DC franchise with a new Man of Steel in theaters. In a few years, Gunn's Superman could be the standard bearer for the DC Universe going forward.
It's because of Gunn's handling of a refreshed Superman that an "adaptation" of the first-ever Marvel and DC comics crossover is easy to fathom. In January 1976, the two publishers collaborated for the first time in Superman vs. The Amazing Spider-Man, a one-shot story by Gerry Conway (with art by Ross Andru, Dick Giordano, and Jerry Serpe). As the title implies, "The Battle of the Century" saw each company's respective A-lister meet, fight, and then team up against a common enemy.
The comic was mildly successful, as noted by author Reed Tucker in his book Slugfest: Inside the Epic 50-Year Battle Between Marvel and DC. It was an overture to more crossovers to come, including Batman and the Hulk (in DC Special Series #27) and the X-Men and Teen Titans (in The Uncanny X-Men and The New Teen Titans #1).
In 1996, things started getting more ambitious with DC Versus Marvel, in which heroes and villains from both universes were pitted against each other in combat. The four-issue series launched the combined Amalgam Universe that introduced hybrid characters like "Super-Soldier" (Superman and Captain America), "Dark Claw" (Batman and Wolverine), "Amazon" (Wonder Woman and Storm), and "Speed Demon" (The Flash and Ghost Rider).
The most recent crossover between the publishers happened 20 years ago in JLA/Avengers, by Kurt Busiek and the late George Pérez, featuring the premiere teams of both publishers in a single story. An official crossover between Marvel and DC hasn't happened since.
While the premise of a Marvel/DC crossover movie may conjure images of something like JLA/Avengers, a movie version of that is too logistically unwieldy to get right out of the gate. To be clear, nobody at Marvel or DC seem all that serious about a joint production. Not even James Gunn, and who knows how Tom Holland will feel about still playing Spider-Man a decade from now. But if a crossover were to happen, it's more realistic to see just two of the biggest heroes meeting first before opening the door to something more.