Mandalorian Season 4 Delay Suggests It's Learning From Season 3's Mistakes
The writers' strike may actually be good news for the tentpole series.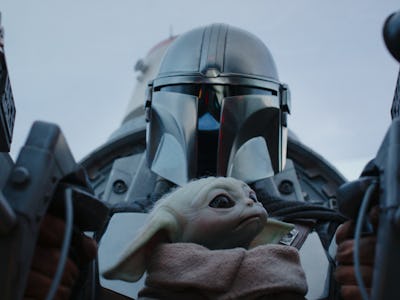 Lucasfilm
The Mandalorian Season 3 was a long time coming. Season 2 ended in late 2020, and Season 3 didn't hit Disney+ until March 2023. But despite the long production time, the results were less than stellar, with fans complaining about an overstuffed story that lacked a clear direction.
Now, with the Writers' Guild of America on strike and studios refusing to sit at the bargaining table, movie and TV productions are grinding to a halt. Initially, it looked like this wouldn't affect The Mandalorian Season 4, but that may have changed. Don't panic, though, because this could actually be good news.
Deadline reports that the strike will delay Season 4's production, despite Jon Favreau saying he had finished Season 4's scripts before Season 3 was even released. It's the first Star Wars series to be delayed by the strike, as Season 2 of Andor is forging ahead without any on-set writers, a troubling development for a show where the strength of its writing was seen as its selling point.
Other high-profile series, like House of the Dragon and Rings of Power, are also moving ahead without on-set rewrites, but some shows are avoiding that risk, like Stranger Things, another sci-fi series that isn't afraid to make fans wait a while for a new season. So there's precedent for The Mandalorian delaying Season 4.
If The Mandalorian doesn't enter production during the strike, that would suggest the scripts aren't as finished as fans were led to believe. No writing work can be done without crossing the picket line, but if production is delayed, it may give Favreau time to think things through and revisit his scripts once a deal is made.
It's possible the critical and fan response to Season 3 may have affected The Mandalorian's future. Season 3 had its moments, but ultimately it was a meandering mess, and if there's an opportunity to give Season 4 a few more coats of paint, it should be taken. While that means we'll have to wait a long time for another season, that wait should be worth it. In the meantime, we have a bevy of shows like Ahsoka, Skeleton Crew, and The Acolyte to look forward to.
The Mandalorian no longer has to carry Star Wars TV on its own, but that also means the stakes are a lot higher. The Mandalorian doesn't just have to be good; it has to make sense within the broader context of all those other shows. Maybe this extra delay will improve the cohesion of the scripts, and make Season 4 truly worthy of the spotlight it will be given.
The Mandalorian Seasons 1-3 are streaming on Disney+.