Mandalorian Season 4 Needs to Bring Back Star Wars' Most Misused Villain
Let's dive back into the cloning pool.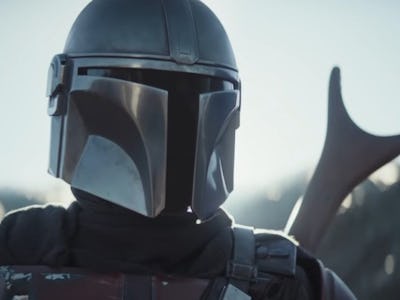 Lucasfilm
The Mandalorian is the nexus point for the current Star Wars universe. Seemingly every new movie and TV series owes its existence to it, either as a spinoff, like The Book of Boba Fett and the upcoming Ahsoka, or as the byproduct of a sprawling live-action Star Wars TV universe that wouldn't exist without Mando's success, like Andor or The Acolyte.
But as The Mandalorian moves into Season 4, it has the opportunity to do more than just spark new projects. It could flesh out one of the most maligned characters of the sequel series, after hinting at doing just that in Season 2.
Back in 2020, Season 2 of The Mandalorian finally explained why the newly-named Grogu was so precious to Moff Gideon: Gideon was trying to figure out how to clone a Force-sensitive being. That mission is even clearer when Mando invades an Imperial base and comes face to face with an unfinished Snoke clone as "Snoke's Theme" underscores the scene.
That moment alluded to the tanks of pickled Snokes we see in Rise of Skywalker, and in the movie's novelization we learned exactly why he and Palpatine looked so rough. When cloning, you can either have healthy clones who aren't Force-sensitive, or Force-sensitive clones that look really gross.
If we see the creation of Snoke in Season 4 of The Mandalorian, this strange scientific quirk could be properly explored. Snoke could pursue Grogu in ways Moff Gideon never could, with the full weight of the nascent First Order behind him. And it would be interesting to see Snoke, an artificial creation, strive for the birth of something better.
This would ease not only the transition between the Mandalorian era and the sequel trilogy, but also the transition between The Last Jedi and The Rise of Skywalker. Palpatine's rise as a secret leader came out of nowhere, especially since the trilogy already introduced a scary, wrinkly, scarred-up bald guy, only to abruptly toss him aside. Focusing on cloning in The Mandalorian would show that Snoke was only a rough draft, and further research will result in the Palpatine clone we see later.
After Moff Gideon's clones were revealed and quickly dispatched at the end of Season 3, it seemed like The Mandalorian was ready to drop the underexplored topic forever. But Dave Filoni started with clones, and at this point, he may as well finish with clones. Considering how fans reacted to Palpatines's return, sticking with clones to the bitter end would be appropriate.
The Mandalorian is streaming on Disney+.