The Mandalorian Season 3 is Defying a Terrible TV Trend
The Mandalorian isn't setting a surprising new record for Star Wars television.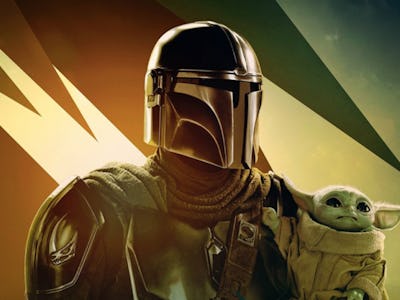 Lucasfilm
It's become pretty unoriginal by now to say that TV has become the new movies. Big stars don't just get their starts in television anymore, they return to the small screen for major roles. And plenty of new TV shows are actually just eight-hour-long films broken up into binge-able chapters. But does that mean individual episodes of television need to be as long as movies too?
Depending on who you ask, the answer might be yes. HBO's The Last of Us debuted with an 85-minute-long pilot. And plenty of episodes of House of the Dragon pushed past the usual 60-minute runtime. But if you're tired of this trend, then we've got some good news about The Mandalorian Season 3.
A new report claims to reveal the runtime for The Mandalorian Season 3 Episode 1, which premieres March 1 on Disney+, and it's blissfully short, even by Star Wars standards. According to Twitter user @Cryptic4KQual (via The Direct), the season premiere will run just 35 minutes and 16 seconds, making it the shortest Episode 1 of any Disney+ Star Wars show so far.
The Direct also offered up some other Star Wars TV premiere runtimes for comparison:
The Mandalorian Season 1: 38 minutes, 46 seconds
The Mandalorian Season 2: 51 minutes, 47 seconds
The Book of Boba Fett: 37 minutes, 39 seconds
Obi-Wan Kenobi: 52 minutes, 26 seconds
Andor: 39 minutes, 9 seconds
And for further reference, we've also looked up some Episode 1 runtimes for Marvel's Disney+ shows:
Loki: 51 minutes
Ms. Marvel: 47 minutes
The Falcon and the Winter Soldier: 49 minutes
Moon Knight: 45 minutes
To be fair, most of these runtimes are totally reasonable. Disney+ clearly doesn't have the same tendencies as HBO when it comes to turning individual episodes of TV into full-length movies. Still, there's something to be said for bringing back short-form television.
Why The Mandalorian Matters
The Mandalorian Season 3 is bigger than just the adventures of Mando and Baby Yoda. Star Wars currently finds itself in a pivotal position. Boba Fett and Obi-Wan were just okay, at best, and while Andor is a critical hit, that show exists in its own corner of the galaxy with no plans to connect to the sprawling Mando-verse.
This new season marks yet another fresh start for the franchise. Mandalorian Season 3 will bring us back to the core story that fans care about, while also presumably setting up future spinoffs like Ahsoka and (possibly) Boba Fett Season 2. So with that in mind, it's good to know that the series won't kick things off with another extra-long episode. Hopefully, the rest of Disney+ (and maybe even HBO, too) will follow Mando's lead.
The Mandalorian Season 3 premieres March 1 on Disney+.