Boba Fett Actor Just Exposed the Biggest Problem With The Mandalorian Season 3
How many times can one Mandalorian steal the show?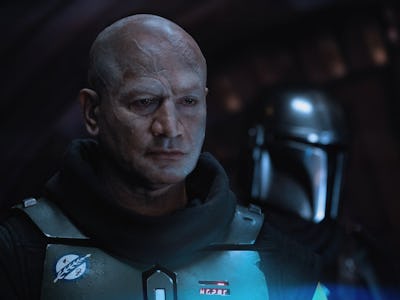 Lucasfilm
What is The Mandalorian, if not a perpetual springboard for the upcoming slate of Star Wars TV? While the series could (and hopefully will) stand on its own in future seasons, it's become a revolving back-door pilot for several obscure Star Wars characters. Ahsoka Tano's first live-action appearance in Season 2 primed fans for the Ahsoka-centric show coming to Disney+, and Temuera Morrison, who played Jango Fett in Attack of the Clones, appeared as Boba Fett just a few weeks before Lucasfilm announced plans for his own series, The Book of Boba Fett.
Boba — and Morrison — owed a lot to The Mandalorian. Without it, both character and actor might have faded into obscurity. Unfortunately, The Book of Boba Fett barely got the chance to find its footing before it was obliged to return the favor. The series' fifth episode, aptly titled "The Return of the Mandalorian," completely derailed the show's narrative so we could check in with Din Djarin (Pedro Pascal). While Boba Fett served a small supporting role in The Mandalorian, the Mandalorian completely stole the show from The Book of Boba Fett. Many fans assumed Mando would reciprocate by inviting Morrison back for a Season 3 episode, but Morrison never got the call.
Morrison recently attended a Q&A at SUPANOVA Comic Con, where the conversation turned to his absence in The Mandalorian. Like fans, Morrison expected to make an appearance. "I was supposed to be in The Mandalorian season 3, but nobody rang me," the actor said. "I was waiting for the phone call in New Zealand."
Morrison also acknowledged the frustration of seeing The Book of Boba Fett's momentum grind to a halt.
"That Mando guy stole a few chapters of my book. It was painful watching him turn up with some black new lethal sword. The way he turned up in my Book of Boba, he just destroyed everybody. I'm sure this guy is … ruining my show. But I couldn't say anything. I'm not the writer, so I have to bear it I guess."
Djarin's show-stopping first scene in The Book of Boba Fett delivered exactly what fans wanted from the series. It was visually striking and chock full of ruthless action, not unlike Boba Fett's own Mandalorian cameo. But it also served as a reminder of what Boba Fett was supposed to be: a dive into the murky depths of Star Wars' criminal underworld. Or, at the very least, a character study of the most ruthless bounty hunter in the galaxy. Instead, that scintillating first scene was dragged out into an entire side quest that had nothing to do with Boba's adventures.
Boba Fett defanged its lead character in every way that mattered, only to posit Din Djarin as the anti-hero we'd all been holding out for. It left a bad taste in the mouth that still lingers, and with Boba Fett's future in Star Wars still up in the air, there's no telling how (or if) Lucasfilm is going to fix one of their biggest mistakes. If they do have a plan, however, Morrison would apparently be happy to hear about it.