Is Killers of the Flower Moon a True Story? The Dark History Behind Scorsese's Next Movie
Set for Apple TV+, this will be a Martin Scorsese epic unlike any other.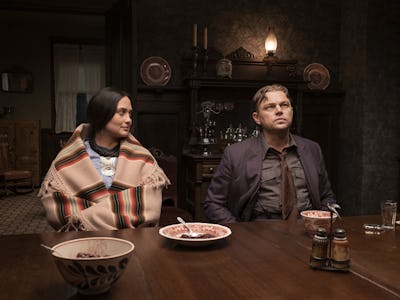 Apple
On the surface, the trailer for Martin Scorsese's new movie Killers of the Flower Moon looks like a dark thriller with a Wild West setting. In other words, it's a fun departure for the director best known for mafia crime epics. But the reveal that Killers of the Flower Moon is based on a true story reveals just how big of a departure this new movie might be.
The systematic genocide and exploitation of indigenous American Indians will forever be a blight on the American fabric. Killers of the Flower Moon will explore a particularly grim chapter of a woefully horrific, and unfortunately authentic, American tale that spans centuries and continues even today.
Killers of the Flower Moon, which is set to release in theaters on October 6 before streaming on Apple TV+ at a later date, adapts the 2017 non-fiction book by journalist David Grann. Its trailer arrived on Thursday ahead of a Cannes premiere later this month.
The basic gist of Grann's book is that in the early 1920s, at least 20 (and maybe hundreds more) members of the Osage Nation tribe in Oklahoma were killed, one-by-one, after they won legal rights to profits from oil deposits found in their land. The case is one of the first homicide investigations undertaken by the FBI, then known as the Bureau of Investigation (BOI). Killers of the Flower Moon is not only about a specific instance of Native decimation by white descendants of colonists but how the FBI laid its foundations as a federal agency.
You can watch the trailer below.
Scorsese's movie sports a large cast of stars led by frequent collaborators Leonardo DiCaprio and Robert De Niro. Both actors play real-life figures Ernest Burkhart and William Hale, respectively, who are central to the murders. The movie also stars Jesse Plemons, Lily Gladstone, Tantoo Cardinal, Brendan Fraser, and John Lithgow; as well as rock musicians Jason Isbell, Sturgill Simpson, and Jack White in speaking roles.
As a director, Scorsese is especially suited to the material, with works that span both the intimate and psychological, as well as epic and historical. There's no doubt Killers of the Flower Moon will encompass a lot of Scorsese's signature themes, like survivalism, class relations, and of course, crime. Frequent in his movies are stories about America as a place not for opportunity but for opportunists, and how power dictates the parameters of one's moral compass.
While the film is told mainly through the eyes of DiCaprio's Ernest Burkhart, who (spoilers?) is a participant in the murders — extra dark because he was married to a native Osage woman — the story is broadly a metaphor for man's intrusion and plundering of the natural world, and the bloodshed America is built from.
Killers of the Flower Moon will open in theaters on October 6 before heading to Apple TV.