Guardians 3 Is a Grim Reminder of Marvel's Biggest Missed Opportunity
Marvel's loss is DC's massive gain.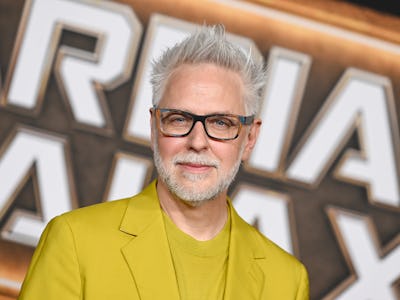 Gilbert Flores/Variety/Getty Images
As Guardians of the Galaxy Vol. 3 wins over Marvel fans with its sense of finality and farewell, writer and director James Gunn is moving on to make a new Superman movie as part of his new position as co-chair of rival DC Studios.
But it wasn't long ago that Gunn was slated to play a similar role at Marvel as the overseer of the MCU's space-oriented "cosmic" films meant to spin out of his trilogy. While Gunn now jokes that his invention of the Infinity Stones' lore was "bullshit," his tune regarding his plans for Marvel's future once sounded different. And with Vol. 3 doing well, it's clear Marvel's loss will be DC's gain.
In 2017, James Gunn confirmed that Vol. 3 would be the last movie for his iteration of the Guardians of the Galaxy — but not the last movie he'd make at Marvel. Gunn also confirmed that Vol. 3 would be full of elements setting up at least another decade of Marvel movies and that he was working closely with Kevin Feige to bring those plans to fruition. He wrote on Facebook that Vol. 3 "will conclude the story of this iteration of the Guardians of the Galaxy, and help catapult both old and new Marvel characters into the next ten years and beyond."
He added, "I will be working side-by-side with Kevin Feige and the gang to help design where these stories go, and make sure the future of the Marvel Cosmic Universe is as special and authentic and magical as what we have created so far."
Gunn spent the rest of the year elaborating on his announcement. He told IGN that Vol. 3 tells "a story that will lead to other stories" and that "it's the beginning of a whole other element of the Marvel Cosmic universe." In August 2017, Gunn reiterated in a Facebook Live Q&A that Vol. 3 would "set up the next 10 to 20 years of Marvel movies [and] really expand the Cosmic universe." And at a Hasbro event in September, Gunn said he's "shepherding the future of the Marvel cosmic universe."
Then Gunn was fired before getting rehired to finish his trilogy, but not before being courted by DC, which led to Gunn writing and directing The Suicide Squad. Despite its underperformance at the box office, it gave Gunn momentum for the spin-off HBO Max hit Peacemaker. Eleven months after Peacemaker had everyone dancing to hair metal, Gunn was hired to co-run all of DC Studios.
Gunn's unique approach to genre films, one tinted by his genuine love of comics, makes him a valuable asset for entities like Marvel and DC trying to shape a universe. We may never know what Marvel's "cosmic universe" was meant to be, but it was clear Gunn had a plan for his corner of the MCU, and right now Marvel feels rudderless.
Meanwhile, the impact Gunn's exit will have on Marvel will become apparent over the next few years, as Gunn applies his trade to Marvel's historic rivals. The full extent of Gunn's vision for DC has yet to be seen, although The Suicide Squad and Peacemaker are promising glimpses of a more vibrant and electric DC Universe. These franchises are far bigger than one man, but this is the first time that DC's future has arguably looked brighter than Marvel's, and Gunn is to thank for it.