James Gunn's Superman: Legacy Could Be His Most Personal Superhero Movie Yet
Gunn confirmed he will be writing and directing the Superman reboot.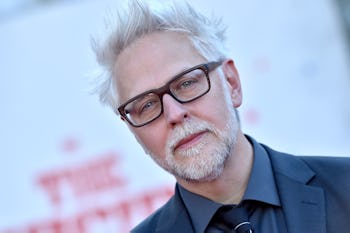 Axelle/Bauer-Griffin/FilmMagic/Getty Images
It's been 10 years since the release of the last "official" Superman solo film, and although the ending of Black Adam teased the return of Henry Cavill in the red tights, Warner Bros. new and improved DC Comics slate is promising a total overhaul of the last 10 years of cinematic universe efforts, kicked off by Superman: Legacy. James Gunn initially insisted that his involvement in Superman: Legacy only went as far as writing the screenplay, but the DC Studios chief finally took to Twitter yesterday to confirm that he will indeed be directing the upcoming superhero reboot.
Although a few characters might continue to be played by their familiar faces (the success of The Flash might have something to say about that), the slate of films that Gunn announced for "Chapter One - Gods and Monsters" is perfect for establishing a cohesive pantheon of characters to build off of. Sprinkled among shocking C-list projects like Creature Commandos and The Authority are recognizable ones like the Green Lantern-centric Precinct Earth as well as the DCEU Batman reboot The Brave and the Bold. But perhaps none of these are as crucial to the success of James Gunn and Peter Safran's multiverse reboot as Superman: Legacy.
Back in 2013, Zack Snyder swung the pendulum towards the serious and grounded end of the spectrum, with a Superman bogged down by the weight of the world's collective mistrust of him. Based on the small tidbits he's let slip, it seems like Gunn is going in the exact opposite direction, portraying the Man of Tomorrow as a "big ol' galoot" from Kansas whose greatest weakness is that "he doesn't want to hurt a living soul." On top of that, one of the key elements of the character that Gunn keeps mentioning is the duality of Clark's heritage — how both his Kryptonian and human lineages make him who he is, which seems to have been part of the inspiration for the title of Legacy.
Throughout the decades, there have been many stories and villains that have played on Clark's dual cultures, including Brainiac (who in some incarnations is partly responsible for Krypton's destruction), the Bottle City of Kandor (a Kryptonian city that survived annihilation by shrinking itself to microscopic size), and even certain parts of All-Star Superman, a story that Gunn has been very upfront about having been an inspiration on the script. While there's no way to know for sure what kind of threat Superman will be up against, if it has to do with his heritage, there's a strong chance it might be intergalactic in origin.
One of the most moving parts of Gunn's announcement is the mention that the film's release date falls on his late father's birthday, who passed just three years ago. Gunn's father was instrumental in nursing his love of comics and superheroes, and without him, the filmmaker could be somewhere else entirely today. It's a safe bet to assume that if nothing else, the wisdom, life experience, and love given to a son by his parents will be front and center in Superman: Legacy.
Superman: Legacy opens in theaters July 11, 2025.