2023's Twistiest Sci-Fi Thriller Has Been 20 Years in the Making
The road to Hypnotic has just as many twists and turns as the movie itself.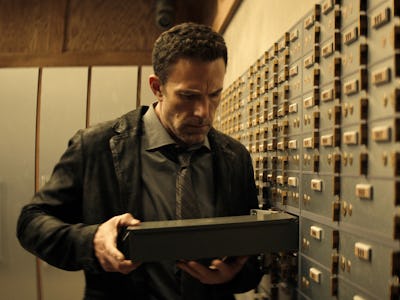 Relativity Media
Robert Rodriguez has been waiting a long time to make Hypnotic. The Alita: Battle Angel director first conceived of it in 2002, at the time calling it "one of my favorite stories." But it fell by the wayside as other projects took priority: the Spy Kids movies, Sin City, Machete, Alita, and most recently, Netflix's We Can Be Heroes. But Rodriguez always kept his eye on Hypnotic, and the pandemic, of all things, finally allowed him the chance to make it.
"I never would've guessed that you could have a shelf life that long," Rodriguez tells Inverse. "But now that I've seen it coming out, we made it at the perfect time."
Ben Affleck, who stars as a grieving detective in pursuit of a bank robber (William Fichtner) who uses hypnosis to get away with his crimes, didn't board Hypnosis until 2019. His co-star Alice Braga joined in 2021. Fichtner joined later that year, rounding out the cast as the sinister, enigmatic villain who seems to know more about Affleck's detective than he lets on. "I wouldn't have had these guys necessarily back even five years ago, so the timing was actually perfect," Rodriguez says.
Fichtner wasn't aware of the long, long road Hypnotic had taken when he joined the film. "I found out that he almost made this film a few years ago, and the pandemic happened, and then everything was changing," he tells Inverse. "Listen, I don't know who he was going to get for this part back then, or if he even made a decision, but whatever happened in between, it ended up being me."
And for that, Fichtner is grateful. Although he's made a career out of playing villains like the big bad on Prison Break, he has no regrets about taking on another villainous role in Hypnotic, especially since his baddie, Dellrayne, is the movie's deliciously chilling highlight.
"I've said no to films that, it's a bad guy for a bad guy's sake, and he is twirling his mustache, and I don't find that very interesting. But what I do find interesting is to find characters that are rooted in something. To me, when you find out what a character cares about, then you can make them a real person, because they care about it."
What exactly does Dellrayne care about? The answer is a little complicated, and requires some navigation of Hypnotic's twisty plot. It starts with the abduction of Detective Danny Rourke's daughter. It involves a clandestine group of elite hypnotics who have the power to manipulate people's minds with just a word (think less birthday party performer and more Charles Xavier). It might have something to do with experiments on children's minds. And at the center of this is Fichtner's Dellrayne, who knows both more and less than you could guess. It's a plot that involves twist after twist, to an almost exhausting degree that Rodriguez made intentionally impenetrable.
"I wanted to see that meta version happening in the movie where you start peeling back the layers and realize, Oh, it's happened to me multiple times within this movie," Rodriguez says. "And you didn't know what's real or what's not."
There is one certainty: Rodriguez finally got to make Hypnotic after years of saying he would. Rodriguez's children, who are all involved in the film in some capacity, know how important it was to him. "They were so little when I came up with this, they'd always heard whispers of this Hypnotic movie I was going to make someday," he says.
It might sound strange that a sci-fi thriller about super hypnosis was Rodriguez's white whale, but Hypnotic was more than just another movie to him. "What kept drawing me back to it was that I loved the process of movie-making," Rodriguez says. "I loved that it was about filmmaking in a way, and about what we do as storytellers."
Hypnotic is playing in theaters now.